Posted on
Mon, Nov 21, 2011 : 5:42 a.m.
'A Man's Guide to Getting Fired' helps men in a straightforward, humorous way
By Ann Dwyer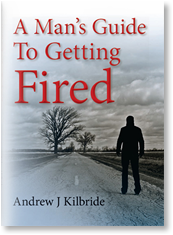 If there's one thing Ann Arbor author
Andrew Kilbride
knows, it's getting fired. In fact, while writing his book,
"A Man's Guide to Getting Fired,"
he was fired himself from the investment firm where he was working after he let them know there was a chance he would be making outside income.
But it was his previous experiences getting laid off that inspired the book.
"The last day was pretty painful," he said of his last job. Relationships are formed at work, including a portion of a person's identity. Leaving that behind can be very difficult.
But he found catharsis in writing, and from that came "A Man's Guide."
"It is for someone who is working, at work, unemployed or laid off," Kilbride said. It describes "a simple process to find your passion in life."
After he was laid off, Kilbride found plenty of books on finding jobs and perfecting resumes, but nothing to help someone move onward and upward.
"A Man's Guide" lays out advice for the man who has just been fired to finding not just another job, but a better one. One that is a better fit for the job seeker. Kilbride talks in the book about his own experience getting jobs that he didn't realize at the time weren't for him.
"My resume had led me down a road of being fired repeatedly from jobs I never should have been given," he wrote in a section titled "Burn Your Resume."
However, Kilbride admits that sometimes it is necessary to take a job if the income is needed. But that doesn't mean they should stop looking.
If you are in a job that you don't like, Kilbride thinks his book can be helpful in finding one you can be passionate. However, unless you're independently wealthy, don't just quit your job, he notes.
"Keep working; find things that might make it better."
What sets Kilbride's book apart is the frank tone and sometimes surprising suggestions. He recommends growing a "playoff beard," after losing your job.
"At least for guys, the status quo is your this clean-shaven guy," he said. He said a beard signals, "I'm on a new path and I'm not going to stop on this new path."
Of course, a metaphorical beard will do just as well. Just find a way to get away from your old work identity.
Chapters in the book have colorful titles such as "Sex, Sex, Sex" and "Burn Your Suits." He breaks down the journey from jobless to job seeker in three stages: Disconnect, reflect and re-inject.
Kilbride explains that while the book is geared towards men, it can be useful for women, too. One wife told Kilbride that after her and her husband read the book, she had a better understanding of what he was thinking and feeling. Because of that, they were able to finally have a "real conversation" about his job loss.
Kilbride's own journey has led him to found Foster Bridge Partners, LLC, a management and consulting firm. He lives in Ann Arbor with his wife, Liz, and their three kids.
Purchase "A Man's Guide to Getting Fired" at http://andrewkilbride.com/ or the e-book on Amazon.