Posted on
Fri, Nov 6, 2009 : 6 a.m.
Ann Arbor Classics to discuss Forster's first novel
By Julia Eussen
The Ann Arbor Classics Book Group will be meeting this Sunday, Nov. 8 to discuss E.M. Forster's novel, "Where Angels Fear to Tread" at 3:00 p.m. at Sweetwaters Coffee & Tea shop.
"Where Angels Fear to Tread" is Forster's first novel. While the plotline may not necessarily be likely in today's world, the messages of love in spite of cultural barriers and of acceptance are timeless.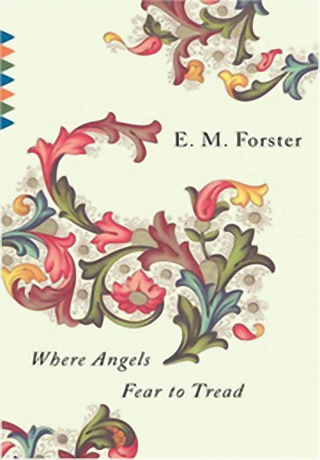 The plot is deceptively simple. The story begins with Lilia, a widow, leaving England for Italy. She's accompanied by Miss Caroline Abbott while her young daughter remains in England with her husband's family. Eventually Lilia marries a young Italian who the family consider beneath her in status. When Lilia dies in childbirth it comes into question as to who should raise the newborn child. Lilia's brother-in-law, Philip Herriton, his sister Harriet, and, separately, Miss Abbott go to Italy to speak with the father, Gino Carella, about the infant's future. There are unexpected turns of events and the trip takes on additional purposes for each character.
I do not wish to give away any more plot points, especially for those who have not yet read the novel. While what I wrote above is accurate, it does not describe what much of the story consists of, which is the motivations of each person's actions. As characters unfold the readers learn of attitudes, habits, beliefs, and witness the internal struggles that factor into decisions made. For example, Lilia's mother-in-law, Mrs. Herriton, is prompted by what she believes is proper behavior for her standing in the community. Harriet's sense of right and "burly obtuseness" leads to unforeseeable actions. Philip and Miss Abbott grow closer throughout the story as Italy opens new windows within each of them.
What is really relevant for reading this novel, and for each character within it, is human connection and human understanding. What allows for both Philip and Miss Abbott to each shift their roles as they interact with others and each other are the moments when they begin to understand something about the world around them that was formerly alien to them. This acceptance, this new understanding, of foreign habits, attitudes, and behaviors allows them to grow as characters. At one point Miss Abbott has the realization "that wicked people are capable of love … and her moral being was abashed." This shifting may be their own undoing in their endeavors, but it is also what makes them completely real for me.
I'm sure differing points of view from other readers will be debated at the next Ann Arbor Classics Book Group gathering. If interested in joining the book group or attending this discussion please visit the website or you may contact me .
Julia Eussen is currently pursuing her M.A. at Eastern Michigan University in the Written Communication Program. She is also an Assistant Organizer for the Ann Arbor Classics Book Group. She can be reached at jeussen at emich dot edu.