Posted on
Thu, Oct 27, 2011 : 3:15 p.m.
Ann Arbor /Ypsilanti Reads announces selection for 2012
By AnnArbor.com Staff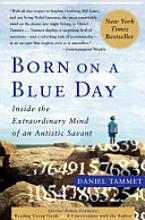 "Born On A Blue Day: Inside The Extraordinary Mind Of An Autistic Savant" has been chosen as the subject for the 2012 edition of Ann Arbor/Ypsilanti Reads.
The book is the autobiography of Daniel Tammet, an autistic savant.
Ann Arbor/Ypsilanti Reads is a program that encourages everyone in the community to read the same book. A variety of discussions and other events are planned around the chosen book.
A screening committee made of community members, teachers, students and librarians from the Ann Arbor/Ypsilanti area read each of three nominees to choose the book for next year's read, planned for January and February. The 2012 edition will be the 10th annual community read in this area.
Following is the full announcement from the organizers:
"Born On A Blue Day: Inside The Extraordinary Mind Of An Autistic Savant," the New York Times bestselling autobiography of an amazing 27-year-old autistic savant, is the title selected as the focus of Ann Arbor/Ypsilanti Reads 2012. Written by Daniel Tammet, the book chronicles his life, from his childhood as one of nine children to his outstanding and inspiring achievements as an adult.

A seven-member selection team composed of community members, educators, and librarians from the Ann Arbor/Ypsilanti area chose the book Monday night from a group of three titles, all of which centered on the subject of Language: How We Communicate. The selection team, which quickly reached a unanimous decision, was chaired by Barbara Klaver, Ann Arbor Public Schools teacher.

The other titles under consideration were "Lost In Translation: A Life In A New Language" by Eva Hoffman and "A Man Without Words" by Susan Schaller.

"Born on a Blue Day" is a journey into one of the most fascinating minds alive today—guided by the owner himself. Daniel Tammet is virtually unique among people who have severe autistic disorders in that he is capable of living a fully independent life and able to explain what is happening inside his head.

He sees numbers as shapes, colors, and textures, and he can perform extraordinary calculations in his head. He can learn to speak new languages fluently, from scratch, in a week. In 2004, he memorized and recited more than 22,000 digits of pi, setting a record. He has savant syndrome, an extremely rare condition that gives him the most unimaginable mental powers, much like those portrayed by Dustin Hoffman in the film Rain Man.

Fascinating and inspiring, "Born on a Blue Day" explores what it's like to be special and gives us an insight into what makes us all human—our minds.

Daniel Tammet is a writer, linguist and educator. A 2007 poll of 4,000 Britons named him as one of the world's "100 living geniuses". He is the creator of 'Optimnem', a website company that has provided language learning instruction to thousands around the globe. His memoir Born On A Blue Day describing his life with high-functioning autistic savant syndrome was a Sunday Times (UK) and New York Times bestseller. It has sold over half a million copies worldwide, and been translated into 18 languages.

Tammet is the subject of the 2005 award-winning documentary film "Brainman," which has been shown in more than 40 countries. He has also made appearances on the 'Late Show With David Letterman', 'ABC News', '60 Minutes', and 'Good Morning America', and been featured in the 'Times', 'Guardian', 'Telegraph', and 'Independent' (UK) 'New York Times', 'International Herald Tribune', 'The Advocate', 'Der Spiegel', and 'Le Monde' (front page) among many others.

Tammet set a European record on March 14th, 2004 when he recited the famous mathematical constant Pi (3.141...) to 22,514 decimal places from memory in a time of 5 hours, 9 minutes. His remarkable memory, mathematical and linguistic abilities have been studied by some of the world's leading neuroscientists at California's Center for Brain Studies and the UK's Cambridge Autism Research Centre.

His new book, "Embracing the Wide Sky: A Tour Across the Horizons of the Mind," is a personal and scientific exploration of how the brain works and the differences and similarities between savant and non-savant minds.

Ann Arbor/Ypsilanti Reads committee members have discussed book availability and copies of the title are now being shipped to area bookstores. Both the Ann Arbor District Library and the Ypsilanti District Library own copies of the title and will order more.

Ann Arbor/Ypsilanti Reads 2012 is scheduled to occur January through February 2012. There will be multiple opportunities for the community to become involved. An author appearance has been scheduled to take place at Washtenaw Community College on Thursday evening, January 19 at 7:30 p.m.

For more information, visit the website at aaypsireads.org.