Posted on
Sat, Feb 6, 2010 : 6:21 p.m.
Celebrated local author, Donald Lystra, to perform reading at Nicola's Books in Ann Arbor (Wed, 2/10)
By Melissa LR Handa
In his debut novel, "
Season of Water and Ice
",
Donald Lystra
delves deep into the minds and motivations of his characters, carving out an interesting and meaningful story. Danny DeWitt is a fourteen-year-old boy recently relocated to northern rural Michigan with his father, while his mother has chosen to pursue her own dreams in Chicago. Isolated both geographically and emotionally, Danny finds friendship with seventeen-year old neighbor, Amber, a pregnant girl, ostracized by society and discarded by both her boyfriend and her parents. The unlikely friendship evolves into something that Amber and Danny consider a special "half-love", a profound emotional relationship unspoiled by sexual intimacy. They help each other through the turmoil of growing up in 1950's America. Amber must face the reality of becoming an unwed teenage mother. Danny searches for the meaning of love, of fear and what it takes to become a man.
Donald Lystra graciously agreed to meet me for an interview regarding his debut novel. As we got settled in at Sweetwaters Café, chatting over our caffeinated drinks of choice (coffee and Diet Coke respectively), Sara McLaughlin crooning in the background, we quickly discovered that we had much in common. Here was a man living this young girl's dream, not just writing legitimately moving fiction but having others extol his work, dubbing it a credit to fiction, linking him time and again to the literary great Ernest Hemmingway. We quickly fell into a master-student rapport—Lystra ever humble, ever encouraging. Some authors (though none I have personally interviewed) only wish to brag of their success, hear praise from anyone who will give it and drone on and on about their own genius. Lystra is no such author. His modesty was unwavering. His kindness was such that he wanted to talk about my writing as well as his own. Lystra made the interview fun and educational for this aspiring novelist.
The first topic I had to broach was his novel's inclusion in the prestigious Michigan Notable Books list for 2010. Every year, the Library of Michigan's selection committee reviews between 250 and 400 titles; they select the 20 best books "reflecting Michigan's rich cultural heritage, featuring high-quality titles with wide public appeal that are either written by a Michigan resident or about a Michigan-related topic". Lystra was beside himself with the seemingly contradictory emotions of pride and humility both when he learned that "Season of Water and Ice" had been bestowed this rare honor, "I knew that my publisher had submitted it to the committee, but I had written off the possibility of my book being included. The reward validated what I had done. For the first couple of months the book was out, I kept thinking there might be some terrible flaw that was going to be discovered and revealed, some factual mistake, or some part of the plot that was just ridiculous. When I got that reward it cleared away a lot of that anxiety, I thought it can't be too bad of a book if twenty-five people on the committee designated it as worthy of being included".
Another shared passion of ours was the field of sociology; in fact, we both obtained Master's degrees in the field, though more than 30 years apart from one another. Before writing, Lystra worked for many years on electrical power plants, employing his engineering background rather than his social science one. Writing gave Lystra the chance to reexamine his past education, using sociological thinking to gain a deeper insight into the human psyche and to develop characters so genuine that one could practically picture them in the flesh and blood, reading the story along with you over your shoulder.
Readers will especially become acquainted with Danny, the protagonist and first person narrator. The first person narration adds an immediacy and closeness in this coming of age story that would have been difficult to achieve had a third-person narrator, or even a nostalgic, aged Danny, taken over a recounting of events. Although at times Lystra admitted having difficulty maintaining the purity of his fourteen year old narrator's voice, the finished project was polished and authentic. The reader will gain more intimacy with and respect for Danny than had he been a simple-minded kid—his precociousness makes him relatable.
Another unique characteristic of our protagonist is his inclination towards science and mathematics. In part, this grew out of Lystra's own fascination with the subjects; he "knew what it was like to be intrigued by mathematical puzzles and scientific issues. So many (characters in novels) are inclined the other way—would-be artists, would-be painters and writers". The author wanted to display a brainy, science-minded character, who was still thoughtful, sensitive and emotionally nuanced. He adds, "if you are inclined one way or the other academically it doesn't mean you don't feel things deeply". Hopefully, all readers will identify with Danny, academic interests aside.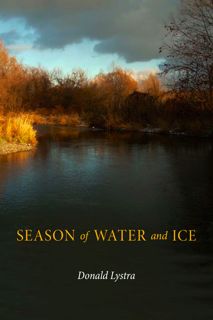 Lystra will be performing a reading and discussion of 'Season of Water and Ice' at Nichola's Books in Ann Arbor on Wednesday, February 10.
Our Danny was growing up in a time much like today—a time when fear of a foreign enemy was an every-day worry, where families unraveled, but love was everywhere and music was a medicine to the soul. Would you believe these times were the 1950's? Lystra explains his choice of era, "there's not a lot of literature that deals with that period of time, probably because a lot of people don't think it's a very interesting time. It's the time of 'Leave it to Beaver' and 'Father Knows Best', but I thought it was a more interesting time than that and worthy of maybe being examined in a story. The 1950's are not so very different from any other age, people are confronted with problems and there's a political situation that's always less than perfect, and there's human relationships that come together and come apart". As a child of the modern age, I often forgot that Danny grew up a good 40 years before I did. It was very easy to fall into the story and misplace the era. Though it is tied to the 1950's, in a lot of ways 'Season of Water and Ice' is a timeless coming of age story.
One such timeless theme is Lystra's examination of love and the many forms it takes. Love was the motivation for many a character's actions in 'Season of Water and Ice', regardless of whether it was love for self or love for another. Concerning Danny and Amber's special love, he admits "that's a situation that can't go anywhere in terms of romance, but I wanted it to go some where in terms of friendship." Love presented it in many other relationships beside Danny's and Amber's. Lystra and I were quick to agree that the father-son relationship weaved throughout the novel is perhaps the most realistic of all of them and in a lot of ways the most touching.
'Season of Water and Ice', The novel's title itself is a metaphor for Danny's transition from boy- to manhood. It references the scientific elements which so fascinate our protagonist. More poetically, we are reminded that growing up is about moving from a gentler state to a harsher one, that is perhaps a little harder and colder, but is also a stronger state of being. Through the simple activity of ice fishing in the novel's closing scene, Lystra reminds us that we can cut a hole through the ice and gaze down into the water. Water makes ice, just as our experiences in childhood help to shape the adults we will one day become.
Lystra clearly has a passion for his craft and was excited to mention his new novel in the works, which he hopes will be ready for publication within the next year. For now, he is happily making appearances all across the state to read and discuss 'Season of Water and Ice'. He is also only too pleased to meet with book clubs and engage in candid discussion with eager readers. Donald Lystra will be at Nicola's Books in Ann Arbor on Wednesday, February 10, 2010. Take this as an opportunity to get acquainted with a great book and to score the signature of a budding author who is sure to one day become even more widely known and esteemed.
Melissa LR Handa is the founder and organizer for the Ann Arbor Classics Book Group and the lead books contributor for AnnArbor.com. If you would like more information or to join the group, please feel free to send an email her way.