Posted on
Mon, Jan 10, 2011 : 8:10 a.m.
Meet author Brenda K. Marshall at the reading and reception for her novel 'Dakota' on Thursday, Jan. 13
By Melissa LR Handa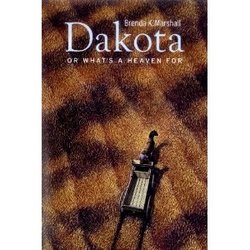 North Dakota Institute for Regional Studies.
Humble reader, have you ever become so enmeshed within the intricate world of a novel that finishing it was like leaving behind a friend or a place you once called home? If you haven't ever felt the pull of a practically corporeal novel, it's high time.
Author, and part-time University of Michigan English professor, Brenda K. Marshall, has worked tirelessly to present the reader with just this type of experience. "If an author has done her job well, then the reading experience will stay with her audience," she explains, "not just the book, not just the characters, but the whole sensibility of the book."
When Marshall first sat down to craft what would become the epic novel, "Dakota: Or What's a Heaven for," she brought with her a very clear idea of her story's setting — the late 19th century Dakota territory. The rest grew from there, as Marshall seamlessly incorporated a range of voices to bring completeness to her vast narrative. In "Dakota," we meet businessmen, bonanza farmers, journalists, politicians, settlers, immigrants and 19th century homesteading desperate housewives. Each voice works as a distinct thread in this intricate narrative tapestry.
Marshall's careful attention to detail lends this tale a rare and special authenticity. If a reader were to peruse "Dakota" without first spying the publication date, she would undoubtedly believe that this novel was written 150 years ago. "Dakota" belongs with the works of "Middlemarch," "Anna Karenina" and the like; it doesn't feel like historical fiction so much as it feels like fiction written within the historical timeframe that it aims to convey. "Only a small part of my research ended up in the final book," Marshall, who researched her novel for two years before she officially began writing it, explains, "but the rest wasn't wasted. It was important for creating that world."
"You can look up historical truth, but not the larger emotional truth. That's not in the history books, but it can be imagined. I wanted to bring a different layer of truth to the history," Marshall says. She also wanted to tell the story of same sex desire within this period—a story that has existed just beneath the surface of the time without ever really being brought out and examined.
"Dakota" is about the stories we create about ourselves in order to perpetuate identities that will allow us to live in a particular way. The novel's central character, Frances, marries Percy, a man for whom she has no desire, in order to be nearer the one for whom she really cares, his sister, Anna. Ever the businessman looking for a new opportunity, Percy's father moves the whole family out to the Dakota Territory to set up a bonanza farm. Once there, we meet a variety of characters, the most captivating of which is Kirsten Knudson, a spunky, young Norse immigrant. While all of the other characters tell their narratives from the third person perspective, Kirsten, refusing to be caged, tells hers from the first person perspective.
From Frances to Kirsten, the novel is saturated with the irrepressible Dakotan character—a mindset which Marshall describes as independent, readily offended, emotionally reticent, and having a "can-do" attitude. "Many of us are defined by our regional backgrounds," the author says. "No matter where I am living or what I am doing, I think of myself as a North Dakotan." An important part of the Dakotan character is defined by the harsh weather conditions that they must endure. The weather itself makes for many memorable scenes within the book—a dramatic blizzard scene "in which a coffin is a bed but an ox is not a coffin," a comical anecdote which lands a confused horse on the barn roof after a snow storm, and even a whole section of the book devoted to the "struggle with dirt." The weather serves as a constant reminder to the characters and the reader that they are not in control. "So what if you had plans for a party, if a blizzard hits, you have no choice but to stay in or risk your life. The weather is simply bigger than we are," Marshall says. This is something we Michiganders can relate to well.
For those of you who are wondering about the book's subtitle, "Or What's a Heaven For," it comes from a quote by Robert Browning in "Andrea del Sarto" and serves as an epigraph within the novel: "Ah, but a man's reach should exceed his grasp, Or what's a Heaven for?" Although the quote refers to the male gender, Marshall believes it is especially potent when applied to women.
"When a woman's reach exceeds her grasp, it's dangerous for herself and those around her," the author says. "Look at the heroines who fascinate us; they often reach for the wrong things, looking for a way of identifying themselves as separate." Marshall continues, "But going beyond what is safe, that's how greatness happens." It's precisely by this extended reaching that the characters, their relationships with one another and even the land around them is cultivated within the novel.
So if you want to read beautifully woven prose, travel back in time to this under-studied period in American history, and meet strong, unforgettable characters, then I suggest you give Marshall's new novel a look. "Dakota" will be celebrated at a special reading and reception sponsored by the Institute for Research on Women and Gender (located at Lane Hall, 204 S. State St. in Ann Arbor) this Thursday, Jan. 13, at 5 p.m. Her last Ann Arbor speaking engagement at the Author's Forum in November was well-received by its audience. You'll definitely want to take advantage of this chance to meet this well-spoken and friendly author.
And the reading experience does not end when you leave the book behind, not if Marshall has anything to say about that. You can visit her website to read more about the novel and about Dakotan history. You can view period illustrations, listen to radio interviews, view the video pre-amble to "Dakota" and even track the character's journeys on nineteenth century Dakotan maps.
"Dakota" has also been selected as a Midwest Connections Pick by the Midwest Booksellers Association.
Melissa LR Handa is the founder and organizer for the Ann Arbor Classics Book Group and the Lead Books Contributor for AnnArbor.com. She is also an aspiring novelist, busily spinning her paranormal YA yarn, Farsighted, while seeking publication for her multicultural work of literary fiction, The Iron Pillar. You can learn more about Melissa by visiting her website: www.emlynchand.com.