Posted on
Fri, Dec 31, 2010 : 6 a.m.
Cozy Corner: 'A Holiday Yarn' like reading the story behind a Norman Rockwell painting
By Lisa Allmendinger
A Holiday Yarn
By Sally Goldenbaum
Hardcover, 264 pages, $23.95
There's ho-ho-homicide in the air in "A Holiday Yarn," the fourth in the Seaside Knitters Mystery series by bestselling author Sally Goldenbaum.
So if you'd like a way to make the Yuletide last a little longer this year, send the family out to return Christmas gifts or spend gift certificates and take a trip to Sea Harbor in New England. Hunker down in a comfy chair with a warm blanket and a glass of red wine for a tale that will chase away any holiday blues.
Join Izzy, Birdie, Cass and Nell, members of the Thursday night knitting group, where there's always a yummy meal, a delicious glass of spirits, and plenty of fingers that deftly create sweaters, scarves, or afghan squares for a cause.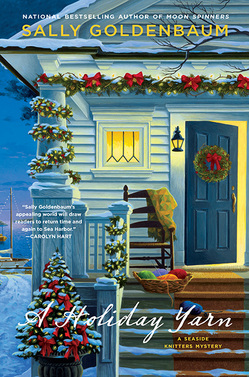 In Sea Harbor "the frozen air was so still that Nell could hear her heartbeat beneath her fleece hoodie. The delicious quiet filled her with a visceral kind of peace. And only on crisp winter days when the town was blanketed in snow and the summer people were long gone did it happen quite this way."
And as Mary Pisano readies her family's Ravenswood-by-the-Sea for its new life as a bed and breakfast, there's murder afoot. And although "murder is such an ugly word, not a holiday word, not anytime-of-year word," there's a great story between the death of a not-so-nice magazine editor and finding out who wanted to see her out of the way.
This book is beautifully written tale of small-time life by the sea. You can almost taste the "ever-changing soup, just like life," and smell "the garlands of greenery that turned Sea Harbor's gaslights into festive posts." It's a place where whale watching and martinis after a day at the beach are commonplace.
This book is like reading the story behind a Norman Rockwell painting.
And by the time your family comes home from shopping, you'll be ready for a snowball fight, some hot chocolate and "the abundant comfort that homemade cookies could bring to a room. Eggs, butter, flour—medicine of the gods."
How can you not love a town where Santa and Mrs. Claus arrive via lobster boat? Or where "gathering around the fire is a ritual woven as tightly into their lives as their hats and sweaters and knit squares."

I've never been a knitter, and even if this needlework isn't your bag, "A Holiday Yarn" explores friendships and festivities that will make you fall in love with this series.
Lisa Allmendinger is a reporter for AnnArbor.com and Cozy Corner runs each Wednesday. She can be reached at lisaallmendinger@annarbor.com.