Posted on
Wed, Dec 7, 2011 : 6:01 a.m.
'To Catch a Leaf' by Kate Collins marks the 12th in a not-to-miss flower shop mystery series
By Lisa Allmendinger
To Catch a Leaf
A Flower Shop Mystery
By Kate Collins
Paperback, 321 pages, $7.99
A missing kitty. Stolen art. The murder of an heiress. "To Catch a Leaf" by Kate Collins will totally entertain you.
In this 12th book in the series, Collins has outdone herself as Abby gets ready to get married, her flower shop is no longer in the red, and the fun cast of characters deepens while continuing to delight readers. Read more about the series and author here.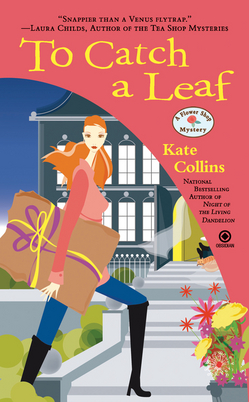 Collins' flower shop mystery series is one of my favorites.
I love finding out what the newest creation Abby's mom, the would-be artist, will come up with. Even better is how Abby plans to sell the latest monstrosities. But what struck me in this tale is how happy Abby is these days as she and Marco get closer to their wedding.
"The best part of a glow of this magnitude was that nothing could dim it, not the ding in the paint on my refurbished yellow Corvette, not the snarl of traffic from a stoplight malfunction, not even the knowledge that my mother had completed a new art project and was going to deliver it after school let out for the day."
And then she hits a cat. But fear not, she doesn't squish it, and she does the right thing, taking it to the veterinarian, then adopting it as it heals — much to the dismay of the current resident feline. But, she figures out a way to fix that problem as well.
Things are pretty much coming up roses for Abby. But when employee Grace Bingham, (the queen of the quote), is suspected of murdering the wealthy Constance Newport, she and Marco must focus on finding the real killer, even if her soon-to-be-mother-in-law is more interested in helping her plan a bridal shower and the wedding.
There's a trip to the races. A lesson in the meaning of flowers. And another delightful addition to a very fun series that never ceases to keep the pages turning and the clues dropping.
"To Catch a Leaf" will keep you reading, chuckling and rooting for Abby and Marco to find happily ever after.
Lisa Allmendinger is a regional reporter for AnnArbor.com. She can be reached at lisaallmendinger@annarbor.com. In addition, each Wednesday she reviews a cozy mystery in her column called "Cozy Corner."