Posted on
Tue, Oct 30, 2012 : 3:04 p.m.
Erdrich pens compelling coming-of-age tale
By Lori Sullivan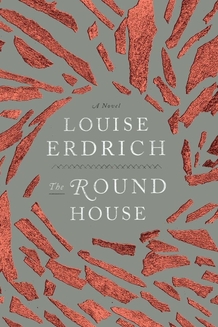 A friend in publishing pressed
Louise Edrdrich
's new book
The Round House
into my hands a few weeks back and implored me to read it.
"This story is incredible, and I really believe Erdrich is an overlooked national treasure." Did I mention my friend is in sales?
I think my friend is right. actually, about Louise Erdrich being an overlooked national treasure. He was definitely right about this book, which is nominated for the National Book Award.
Erdrich is the author of several books of poetry and fiction. She was a finalist for the Pulitzer in Fiction in 2009 for her novel The Plague of Doves. She is widely accepted as a forerunner in writing of the Native American experience, and her early novels Love Medicine and The Beet Queen are works of master craft, weaving together multiple stories, time periods and narrators who intertwine like intricate beading throughout the books.
She has since authored 10 additional works of adult fiction, along with seven well-loved works for children, and multiple collections of poetry and short stories. Literary national treasure? I would think so. And yet the American public's understanding of Erdrich's literary greatness do sometimes seem to go unnoticed.
In The Round House, Erdrich returns to life on the Ojibwa reservation, this time during the 1980s. We are introduced in the first pages to Joe Coutts and his father Antone Bazil Coutts, a tribal judge, as the two work at removing weeds from the foundation of their home in Hoopdance, N.D. Realizing that Joe's mother Geraldine is late in returning from an errand to her office, they set out to find her and discover that she has been brutally beaten and raped.
In the weeks that follow, Geraldine retreats to her bedroom, shutting out her family and friends: knocks on the door go unanswered, meals uneaten. Joe of course, does not understand the attack. Even harder for him to comprehend is his mother's reaction to it and the idea that the family will forever be altered.
Although local Bureau of Indian Affairs officials are called in, Joe and his father realize that solving this crime will be up to them. Joe realizes that justice, as well, will most likely fall to the family. They soon understand that where the attack took place — the tribe's ceremonial Round House — will determine whether the attacker can even be prosecuted if he's found. Because the Round House straddles both tribal and Federal land, the possibility of the attacker escaping prosecution is significant.
The layered, intertwining motifs of this story are what give it its depth and richness. There are the obvious comparisons of Native American life to the lives of whites living near or even on the reservation. But even this comparison is filled with complexity as issues of adoption and the definition of "native" within and without the community come into play.
Then there is the pursuit of justice. For Joe's father Bazil Coutts, the unwavering belief in the rule of law is a foundation of his life. But Erdrich deftly weaves in elements that portray other, equally important teachings of rightness: Native American stories, Christian teachings and even lessons from popular culture. At times, these stories are complimentary; at others they are in direct conflict.
Perhaps the strongest, most compelling element of The Round House is as a coming-of-age story. After Joe's mother's attack, he finds himself caught between adolescence and adulthood; between those times when he is being cared for versus being the protector. As an older adult narrator, Joe has the benefit of years of reflection on this period of time when he struggled, out of necessity, to leave behind the carefree life of a teenager and become a man. As a narrator, Joe is thoughtful and honest about his uncertainty.
When his mother begins to return emotionally, he says "I'd thought she was the same mother only with a hollow face, jutting elbows, spiky legs. But I was beginning to notice that she was someone different from the before-mother…I had believed that my real mother would emerge at some point. I would get my before mom back. But now it entered my head that this might not happen…This new formidable woman would take getting to know, and I was thirteen. I didn't have the time."
What saves Joe, in part, is that he doesn't make this difficult journey alone. He has a close group of three friends, including his best friend Cappy, and together they do what 13-year-old boys are supposed to be doing: checking out women's breasts, stealing the occasional beer and cigarettes, developing crushes, and joy-riding in a broken-down car.
There are even times of hilarity as the boys challenge Father Travis, the reservation's Catholic priest who's also a war vet, or as they listen to the tales of Joe's grandfather Mooshum, who regales them with stories of his sexual exploits. Together they are reminiscent of the four boys in Stephen King's The Body (later made into the movie "Stand By Me") who discover together that grown-up life is both better and worse than they imagined.
As mysteries are solved and decisions are made, Joe realizes the essential roles played by his friends and family (both immediate and extended). He accepts his father's need for the law to matter, despite history showing them otherwise. He gains understanding of the human condition in all its complicated pieces. And he learns how much can be gained from loss.
The book: "The Round House" by Louise Erdrich, Harper, 336 pages.