Posted on
Tue, Jul 19, 2011 : 5:08 a.m.
Former Ann Arborite's novel 'Wire to Wire' weaves in strands of Michigan train hopping and Bob Seger tunes
By Ann Dwyer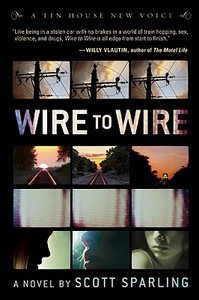 Northern Michigan plays an important role in "Wire to Wire," the debut novel by
Scott Sparling
. The book centers on a former train hopper who tries to patch up his life by returning to the fictional town of Wolverine, Mich. The author notes that there really is a Wolverine, Mich., but they are the same in name only.
Although he now lives in Oregon, Sparling grew up in Jackson and returns nearly every summer to spend time in northern towns such as Frankfort. In the 1970s, he lived in Ann Arbor, where he and friends spent time seeing Bob Seger play at local clubs.
Sparling said that even back then he knew "someday the whole world is going to be listening to this."
Those early days helped Sparling when he needed to take time off from writing "Wire": He created SegerFile.com, a leading Seger fan site. In the days before Google and Facebook, SegerFile was one of the few places for information on the musician.
"Seger didn't even have a web page...My site was 'the' source for both info about his past and his music and what he's doing now," Sparling said.
The site has given Sparling his own bit of fame. He was recognized at a Seger concert at the Palace of Auburn Hills in May. "A half dozen fans asked me for autographs. One guy wanted me to sign his T-shirt, which was weird," Sparling wrote in an email.
Seger's songs, along with other famous Michigan musicians such as Iggy Pop, are quoted in "Wire to Wire."
"The more I wrote the book, the more I realized what (the characters) would be listening to," he said.
"Wire" tells the story of Michael Slater, whose peripheral vision takes on an almost superpower-like quality after taking a power line to the head while train hopping. After rehab and a relationship in Arizona don't work out the way he had hoped, Slater decides to return to Michigan to reunite with his old train hopping pal. But he soon finds himself caught up in murder, drugs and the damaged residents of Wolverine.
There is "definitely a page-turning crime plot to it," said Sparling. But, he adds, that underneath it all is a story about falling in love with the wrong person and coming to terms with what has been lost.
Sparling's own adventures train hopping inspired the novel. He would spend summers riding the rails with his friend, D.C. Jesse Burkhardt. Burkhardt has written his own non-fiction books about their adventures.
Sparling will be at Nicola's Books on Thursday, July 21 at 7 p.m. for a reading and signing event. Nicola's is at 2513 Jackson Ave, Ann Arbor in the Westgate Shopping Center.