Frog and Toad - Reader's Theater at Bach Elementary
Posted on Wed, Apr 14, 2010 : 8 a.m.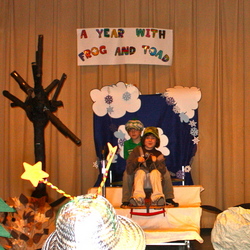 The other day I had the pleasure of attending an after school function at Ann Arbor Public School's Bach Elementary School. All the first graders put on a play called A Year with Frog and Toad.

The Bach first graders performed some of the classic stories from the Frog and Toad series to a standing-room-only crowd and they were even called back for an encore!

The students were dressed as forest critters and the stage props were managed by the first grade teachers to reflect the changing seasons. Mrs. Bishop, their music teacher, worked with the first graders to bring the Frog and Toad characters and stories to life.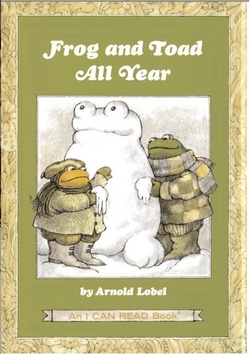 The delightfully silly
Frog and Toad
series was written and illustrated by
Arnold Lobel
. The series is made up of chapter books for beginning readers where each chapter is a short story. The characters Frog and Toad are the best of friends. Frog's calm, positive demeanor compliments Toad's nervous worrywart way.
The two friends have many everyday adventures together that readers of all ages can identify with. We can all relate to Frog and Toad's struggle with willpower as they try not to eat all of the cookies. And I love how Frog misinterprets how to care for a garden and proceeds to play his violin for, reads aloud to, and provides a night light to coax his seeds to grow.
The Bach First grade performed the chapters Spring where Frog tries to wake Toad from hibernation, The Letter where mail gets delivered very very slowly by a snail, explored willpower in Cookies, togetherness in Down the Hill, helped each other in The Surprise, and explored gardening with The Garden chapter where Toad learns gardening takes hard work but mostly patience.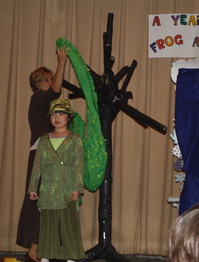 Bach School's performance was a great example of Reader's Theater. Reader's Theater provides another way for readers to experience a story or book since it is a dramatic adaptation. It can involve students writing and performing the script or it is just a dramatic read aloud of the story itself.
There are many benefits to having students creating and participating in Reader's Theater. These include strengthening collaboration skills when working together, increasing communication skills by performing and of course improving fluency skills when reading aloud. Scholatic.com adds:
"Reader's Theater is readers reading a script adapted from literature, and the audience picturing the action from hearing the script being read aloud. It requires no sets, costumes, props, or memorized lines. Instead of acting out literature as in a play, the performer's goal is to read a script aloud effectively, enabling the audience to visualize the action. Performers bring the text alive by using voice, facial expressions, and some gestures."
Reader's Theater does not really need fancy costumes, stage props, lighting or even a large audience. Children can work out a script to a favorite story and perform for their class or even just for Mom and Dad. Reader's Theater is a fun way to immerse yourself in a story besides just reading it. Grab some paper bags for costumes and old boxes for props and try an at-home adaptation of a favorite book and get ready for that encore!

book photo: Google Images
Lisa Bankey is a parent, an Enrichment Facilitator for the Ann Arbor Public Schools, and a librarian-in-training who blogs about Children's Literature for AnnArbor.com. Lisa can be reached at lisabookblog@gmail.com.