Posted on
Fri, Jun 25, 2010 : 11 a.m.
Teens' six-word memoirs range from amusing to heartbreaking in 'I Can't Keep My Own Secrets'
By Lisa Bankey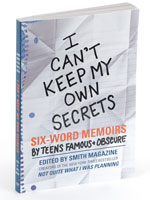 www.smithmag.net/books/
Haiku limits expression to 17 syllables,
Twitter
limits messages to 140 characters, and in his book "I Can't Keep My Own Secrets," author Larry Smith challenges teens to limit their memoirs to just six words.
This book is a result of a project Smith started in 2006 called SMITH Magazine. It is a blog-a-zine that focuses on personal narrative storytelling.
After the success of "Not Quite What I Was Planning: Six-Word Memoirs by Writers Famous and Obscure," Smith found out that people of all ages were inspired by the project. Teachers from kindergarten to high school had students writing their own six-word memoirs. SMITH Magazine then challenged teens to contribute their six-word memoirs. The result is a collection of memoirs and illustrations from more than 600 teen contributors.
Teens, famous and not so famous, shared their experiences, ranging from amusing—"I fulfilled my awkwardness quota today," to heartwarming—"My single mom raised me well," to heartbreaking—"Found out I had cancer. Damn."
At the end of the book, famous teens, like singer Taylor Swift and Disney actor Orlando Brown, have contributions as well. Each author's first name and last initial is included with their memoir, so the teen contributors are published. Contributing teen author Kay A. sums it up best (in seven words)—"Told you I would be published someday!"
This book would be a great addition to a school library to be used in poetry instruction or to be checked out for casual reading by students from grades seven and up. This book shows that not all writing needs to be lengthy or prose with fancy words.
So read through "I Can't Keep My Own Secrets: Six-Word Teen Memoirs," and try to write your memoir in six words and post it on Smith's website. Who knows? You may get published. Just like our local students who take the 826 Michigan's OneForty challenge to write a VERY short story (only 140 characters), the Erickson Elementary students with Don't Stay Up So Late, or the Ann Arbor Open students with Millions of Miniscule Importances.
Lisa Bankey is a parent, an Enrichment Facilitator for the Ann Arbor Public Schools, and a librarian-in-training who blogs about Children's Literature for AnnArbor.com. Lisa can be reached at lisabookblog@gmail.com.