Posted on
Mon, Jan 31, 2011 : 8:23 a.m.
Is WordPress or BlogSpot the better choice for hosting your writing blog?
By Melissa LR Handa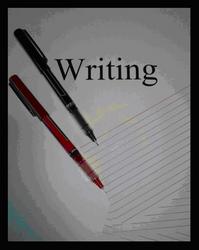 I've already told you how important it is for aspiring writers (and successful ones, too) to build their online presence by keeping a blog. I've even told you
11 ways to get the most out of your blog
, thus maximizing your visibility. What I have yet to tell you is how to blog.
How to blog — that seems like a huge topic, right? Well, it is. That's why I'm starting a whole series of posts to teach you what I have learned. I'll also talk about how to use other social media venues like Twitter, Facebook, YouTube, StumbleUpon and the like.
To get us started with a bang, I'm going to pit WordPress and BlogSpot (the two primary blog sites) against one another on 10 points. For each category, I'll declare a winner. At the end, we'll summarize each blogging platform and discuss which will be the better choice for you.
Full disclosure: I keep my primary blog on WordPress, but I started a second mini blog on BlogSpot so that I could get acquainted with both platforms before making my call.
1. Design Themes; the winner is WordPress
Wordpress: More options readily available, but it can take a while to find the one which best suits you.
BlogSpot: Quick and easy configuration, with fewer options for customization.
2. Widgets; the winner is BlogSpot
WordPress: Toolbar with limited options, does not allow flash or java.
BlogSpot: Allows placement of widgets anywhere on the page, many options, allows flash and java.
3. Subpages; the winner is WordPress
WordPress: Some themes allow the option of removing the widget bar for a more professional feel, can create a subpage hierarchy for easy organization.
BlogSpot: Subpages look identical to the main page, does not have a professional feel.
4. Fonts; the winner is BlogSpot
WordPress: No options, you must either use html within the post (or to edit the theme) or you need to use CSS Typekits.
BlogSpot: Dropdown menu on post screen allows the choice of seven fonts, also allows you to change the default font.
5. Link Lists; the winner is BlogSpot
WordPress: Can add links and link categories and hierarchies on the dashboard, a bit of a work around.
BlogSpot: Add the link list widget and get to work — very easy to use with a professional feel.
6. Tags, Categories & Labels; the winner is WordPress
WordPress: Offers tags and categories, allows the creation of hierarchies and family, auto recommends tags.
BlogSpot: Only allows labels, which you have to manually input.
7. Hit Counter; the winner is BlogSpot
WordPress: Ability to specify what the hits are called i.e. "visitors, fans, crazy people."
BlogSpot: Clear to read, refreshes in live time, but is not customizable.
8. Spell Check; the winner is WordPress
WordPress: The most wonderful thing that ever happened, even checks for word usage, clichés, passive voice and more.
BlogSpot: Pretty standard (like Microsoft Word).
9. Site Stats; there's a tie
WordPress: Provides a list of search engine terms that landed viewers at your site, lists incoming links and shows you which of your links viewers are clicking on, shows how many people are sharing your posts, which posts they are sharing and through what medium, displays daily hits, weekly averages, and the rate of change.
BlogSpot: Provides bar graphs and pie charts as well as a map of your audience, tells you which operating systems and browsers your audience uses, sorts referrer links into larger groups (that can be pulled apart) — i.e. all Facebook referrals regardless of the exact link.
10. Traffic; there's a tie
WordPress: The use of tags and categories makes it easy for other users to find your site; the active forums are also a good way to drive traffic.
BlogSpot: Does blog tours and promotes interaction among bloggers, also creates fun and customizable profiles for your site and when you visit others, powered by Google as a big plus.

WordPress—4 BlogSpot—4 Tied—2
WordPress lends bloggers a more professional feel to their sites. Its spellcheck feature alone makes it the better choice in my eyes. WordPress may require a basic working knowledge of web design and html, but if the blogger is a quick learner, these skills should not take long to acquire.
BlogSpot is more straightforward and has a greater ease of use. If the blogger desires the use of widgets, flash, or java, BlogSpot may be the better choice — the biggest downfall of WordPress is its relative widget unavailability.
So, as a blogger, you'll need to clearly define the goal of your site, how much work you are willing to put in, and how professional you would like it to feel. WordPress does take longer to set up but is easy to navigate once you have it going. If you want to spend minimal time figuring out how to blog, BlogSpot is the better choice.
I'd be happy to answer any questions or to analyze the two platforms on a criterion that I have not already listed.
Happy blogging!
Melissa LR Handa, who also writes fiction by the name of Emlyn Chand, is the founder and organizer of the Ann Arbor Classics Book Group and the Lead Books Contributor for AnnArbor.com. She is also an aspiring novelist, steadfastly seeking the publication of her first novel while penning her second. She conducts live twitterviews with authors and with bloggers every Tuesday, Thursday, and Sunday at 4 PM EST and runs a weekly flash fiction contest on her blog. You can contact Melissa via Twitter, Facebook, or email, or learn more about her by visiting her website: wwww.emlynchand.com.