Posted on
Mon, Feb 28, 2011 : 9:12 a.m.
Jodi Picoult's 'Sing You Home' is one of her greatest literary triumphs
By Melissa LR Handa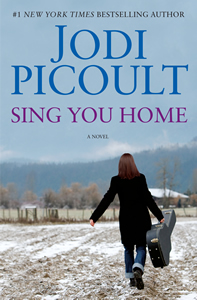 So far in her 18-novel career, we've seen
Jodi Picoult
cover such controversial issues as euthanasia, capital punishment, sexual molestation and one's right to her own body. Now, she takes her mastery of story-telling and emotion evocation to a whole new level in this, her newest, "Sing You Home." The issue that takes center stage in this novel is gay rights.

Zoe thinks that her long-held dream of becoming a mother is finally within grasp. After several failed attempts at in vitro fertilization, she has finally become pregnant. Seven months in, an unanticipated complication occurs, and Zoe is forced to deliver the child stillborn.
Her husband, Max, is also deeply impacted by this event, and when Zoe suggests that she would like to try IVF again, he realizes that he's had enough and moves to dissolve their marriage. Max moves in with his well-to-do brother and ultimately turns to religious conservatism as a way of putting together the pieces of his fragmented life.
Zoe continues on with her daily routine — she wakes up, performs her job as a music therapist, goes to the gym, and does the other activities that are expected of her despite the great pain that she carries with her just beneath the surface.
One day, Zoe happens upon an old acquaintance, Vanessa. Vanessa, having heard of Zoe's misfortunes, invites her out for a coffee and some female solidarity.
Although it was never expected or intended, Vanessa finds herself falling in love with Zoe. When Zoe reciprocates this affection and the two women form a romantic relationship, Vanessa remains sensitive to the possibility that Zoe may just be trying homosexuality on for size and that the entire dream could fall apart at any moment. Despite this incessant paranoia, the partnership moves forward ultimately leading to marriage and the desire to start a family.
As the two women begin to discuss the logistics of having a child, Zoe remembers three frozen embryos that were left over from her last cycle of IVF with Max. Due to a health issue, Zoe is no longer able to have babies of her own, and the opportunity for Vanessa to carry a baby that is biologically Zoe's is a very attractive option for the couple.
Zoe approaches Max to gain his approval for the procedure. Max's heart is torn. He once loved Zoe very much and wanted nothing more than for her to be happy in life, but now he believes that she is living a life of sin — a life that should not be forced upon an innocent, pre-born child. Max designates an alternative use for the embryos under an arrangement that he believes would allow them to grow up in a morally sound environment.
Their case goes to court, where Max and Zoe both must fight for their claim to the embryos. Issues larger than their personal lives are pulled into the courtroom. Zoe becomes a hero to gay rights activists and the poster child of immorality to the other side of the issue. Max is painted as a heroic champion of the traditional family and as a misinformed bigot.
Ultimately, the embryos can only go to one of their parents. Who will be awarded this greatest gift of all, the chance to welcome a new life into the world?
"Sing You Home" is a captivating novel that allows the reader to become intimately acquainted with the three main characters of Zoe, Max and Vanessa. Each character is so well-defined and relatable that it becomes impossible for the reader to despise any of them — even those which espouse causes which the reader may stand strongly against.
Zoe's desire for love above all, Vanessa's disbelief that things will finally go her way after a lifetime of experiences to the contrary, and Max's persistent desire to do the right thing in the eyes of God, all make sense. All feel authentic, and all are compelling.
The accompaniment of a music CD adds a groundbreaking new depth to the novel. The moving lyrics of Jodi Picoult combined with the musical composition and singing talents of Ellen Wilber bring the words off of the page and into the heart of the reader.
This 10-song music disc features songs written from the viewpoint of Zoe. Throughout the novel, the reader is instructed at which point she should listen to which song for maximum impact. I found the tracks "The Mermaid" and "Ordinary Life" especially enhanced the content of the story.
So whether you believe in maintaining the integrity of traditional marriage or you believe that all people should have the same rights regardless of their sexual orientations, you should read this novel. It is guaranteed to open your eyes to how the other side lives, and perhaps you'll see that, in the end, we are all human, and we all do what we believe to be correct.
Melissa LR Handa, who also writes fiction by the name of Emlyn Chand, is the founder and organizer of the Ann Arbor Classics Book Group and the Lead Books Contributor for AnnArbor.com. She is also an aspiring novelist, steadfastly seeking the publication of her first novel while penning her second. She conducts live twitterviews with authors and with bloggers every Tuesday, Thursday, and Sunday at 4 p.m. EST and runs a weekly flash fiction contest on her blog.
You can contact Melissa via Twitter, Facebook or email, or learn more about her by visiting her website: wwww.emlynchand.com.