Posted on
Mon, Jan 31, 2011 : 5:57 a.m.
'Lastingness,' by University of Michigan's Nicholas Delbanco, explores 'art of old age'
By Jenn McKee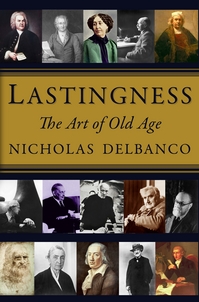 U-M English/creative writing professor Nicholas Delbanco's newest book — "Lastingness: The Art of Old Age" — is attracting some serious media attention.
The New York Times Sunday Book Review recently featured a critique of "Lastingness" within its highly selective pages; and the day after Delbanco's interview with AnnArbor.com, a reporter from the popular National Public Radio show "All Things Considered" was slated to talk with the prolific writer/teacher. (The segment aired Friday, January 21.)
Plus, on the heels of these notable media events, a book tour will be taking Delbanco to New York, Boston, and Chicago, as well as Florida and California.
So what is it about "Lastingness" that's catching everyone's eye? Its compelling subject: an exploration of artists, working in various media, who continued not only to work into old age, but to produce some of their best work late in life.
"To some degree, it really is a personal book," said Delbanco. "Meaning, for obvious reasons, artists in older age is now an issue of importance to me. 20 or 30 years ago, I wouldn't have been so interested in the topic."
U-M photo services
Delbanco himself is approaching the age of 70. This, combined with the 2007 death of his 98-year-old father, Kurt Delbanco, "who painted until the last week of his life," as well as the discipline of his 95 year old cellist father-in-law (Bernard Greenhouse), who still tries to practice every day, helped fuel Delbanco's research and thoughts about the topic.
'Like most ideas, the way I knew that this was something I wanted to focus on — or at least the way I've come to estimate an idea's value over the years — is that I couldn't get rid of it," said Delbanco. "I kept thinking about this. What it is that keeps some artists going, while others' work dies off, or they just quit?"
A key starting point for Delbanco was a lecture he gave five years ago, when he became a Robert Frost Distinguished University Professor of English at U-M.
"You have to give a speech to the assembled, presumably, multitudes, so I wrote a speech that would end up being a chapter 'Lastingness,' and that was my talk," explained Delbanco. "And it really did get people interested. Everybody in the crowd, when I'd finished, was asking, 'Well, what about architects? What about neurologists? Mathematicians?' … It was so clear that all of us, no matter what we do, try to imagine our future, and think about staying power."
Delbanco spent a couple of years doing research for the book (his 25th), and though he initially planned to include discussion of both dead and living artists in "Lastingness," intended subjects like Grace Paley and John Updike passed away early in the book's development process.
"To be honest, I got spooked," said Delbanco. "I didn't want to be the kiss of death. So in terms of selection, I decided that I would only deal with the dead. … But then the issue becomes how long the book should be. It could easily have been several hundred pages. … The process of exclusion was difficult."
So what artists made the cut? Monet, Verdi, O'Keefe, Yeats, and Liszt, to name just a few. (Delbanco generally used age 70 as a minimum for the artists profiled.) As one point of contrast, Delbanco included a discussion of Johann Christian Friedrich Holderlein, a Romantic poet who wrote until his death at 73.
"He was basically the German Keats," said Delbanco. "He was a great poet in his 20s and 30s, but when he was 37, he went mad. … He was locked in a house, and he kept writing poetry, but most of it was nonsense."
Most of the artists discussed in "Lastingness," however, are those who did some of their greatest work late in life, and Delbanco found their stories personally "invigorating."
"I would have to say that when I began, I was nervous about finding many examples of artists whose art did advance or continue late in life," said Delbanco. "But the more research I did, the more examples I came up with."
"Lastingness" is hitting bookshelves now, and Delbanco has another book coming out later this year. But even so, "Lastingness"' topic continues to fascinate Delbanco: "Everyone knows that baseball players and ballerinas don't start careers at age 40, but painters and writers, theoretically, ought to be able to thrive late in life."
Among Delbanco's upcoming public appearances are a discussion and book signing at 7 p.m. tonight (Jan. 31) at the downtown Borders store, 612 E. Liberty St.; and at 7 p.m. Feb. 8 at Nicola's Books, 2513 Jackson Road.
Jenn McKee is the entertainment digital journalist for AnnArbor.com. Reach her at jennmckee@annarbor.com or 734-623-2546, and follow her on Twitter @jennmckee.