Posted on
Fri, Dec 31, 2010 : noon
Michigan Quarterly Review provides an ideal end of the year read
By Julia Eussen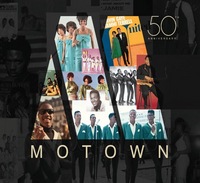 As the year ends, it seemed fitting to me that I should select a reading that was uniquely Michigan. The
Michigan Quarterly Review
, published at the University of Michigan, focused on "
Growing Up Motown: Scholars reflect on Motown at fifty
." That seemed like the best celebration to end my year with — reading-wise that is.
Angela Dillard's piece, Growing Up Motown: An Introduction, reflects on how present Motown was in her Detroit life, even when it had left the Motor City in 1972. Listening in the car while waiting in the long long gas lines, family disgruntledness when it first moved within the city to Woodward Ave. — Motown constantly weaves its way through assorted pieces of life.
"Where Did Our Love Go?": Contemplating the Lie and Death of Motown and the Motor City, by Suzanne E. Smith, intersects Motown, the House of Diggs Funeral Home, Florence Ballard (of the Supremes) and independent African-American business in hard times.
In addition, Mark Clague provides some interesting musical history when reviewing songs of politics that came out of Motown. In What Went On?: The (Pre-) History of Motown's Politics at 45 RPM, he notes that Marvin Gaye's famous work of art, What's Going On, had several predecessors, not in terms of his style and sound, but in that Motown had presented politically charged pieces throughout its history: Stevie Wonder did a version of Blowin' in the Wind; Motown released Martin Luther King Jr.'s speech from the 1963 Detroit Freedom March and, as early as 1961, Motown issued the single Greetings (This is Uncle Sam) by the all-white group, the Valadiers.
These are just a few of the essays in this issue. Reading this celebration and learning of the complexity of a musical culture that is deeply embedded in the identity of Detroit was a wonderful way to end the year. The seeds of greatness started in a small house on West Grand Boulevard; new ones can be planted anywhere in the year ahead.
Happy New Year everyone!
Julia Eussen received her B.A. in English from Kansas State University. She is currently a graduate student in Eastern Michigan University's Professional Writing Program. She is also an active member of the Ann Arbor Classics Book Group and has recently begun to re-acquaint herself with good poetry. She can be reached at jeussen at emich dot com.