Posted on
Wed, Dec 15, 2010 : 1 a.m.
Molly O'Neill's 'One Big Table' cookbook is an encyclopedic treasure trove
By Marci Raver Lash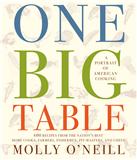 Courtesy of Simon & Schuster
One Big Table: A Portrait of American Cooking by Molly O'Neill
600 recipes from the nation's best home cooks, farmers, fishermen, pit-masters, and chefs (Hardcover)
This book is one big, delicious bite of American cooking. It's filled to the brim with more than 600 recipes and stories galore ranging from potpies to the social history of chocolate cake. For those of us who have moved a time or two... or 10, Molly O'Neill has captured the foods of each area I've called home. These recipes take the reader from coast to coast with lots of practical cooking know-how.
It took author Molly O'Neill more than 10 years to travel throughout the United States researching, talking with home cooks and food experts "in the field" and gathering their stories and recipes. The recipes are lovingly surrounded by warm stories about the people connected with food, and the wonderful photography brings the food experience into your home before you preheat the oven.
No matter how many cookbooks are on your shelf, this encyclopedic resource is the definitive in rounding out a true collection.
Marci Raver Lash is a new books and food contributor for AnnArbor.com. You can reach her at marci@contemporaryetiquette.net.