Posted on
Tue, Dec 14, 2010 : 10 a.m.
New year's resolution: In 2011, I will read more
By Melissa LR Handa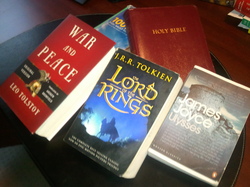 There's something about this time of year that prompts a person to reflect on who she has become and how that image may differ from who she ideally would like to be. Maybe it's the season of thankfulness followed by the season of giving. Maybe it's the fresh blanket of snow that clings forgivingly to the earth, covering up our transgressions and offering us a fresh start. Maybe it really is something as mundane as the turn of the calendar's page.
Whatever the reason, the time for resolutions is upon us. Some statistics estimate that about 50 percent of Americans make New Year's resolutions, and of this group, 90 percent fail to achieve their goals — roughly 75 percent within the first week and almost all by Valentine's Day. Why might this be? Do some of us make resolutions half-heartedly, just because it seems an expected January norm? Do others set sky-high expectations for themselves and give-up too quickly when the going gets tough?
If you've been less than successful with your past resolutions, maybe this year you should set your sites to a more obtainable goal. You might consider this resolution:
In 2011, I will read more.
The benefits of reading are numerous: it improves your vocabulary and your memory, provides entertainment and an all-access peek into other worlds, and enables you to build your concentration and reasoning skills. Nothing wrong with that!
If reading more sounds like an okay resolution to you, you have to customize it to your needs. What will you read? How much?
There are countless lists out there, telling you the books you should be reading. You may choose to read the books recommended by Time, Oprah, Modern Library, the Banned Books List or the 1001 Books You (apparently) Must Read before You Die. Or, perhaps you want to keep a leg up on what your kids are reading, then you might try the Best Young Adult Books list recommended by GoodReads.com, or you can always talk to your local librarian to find out what the kids are reading these days.
You could also set a goal to read one book per month, disregarding lists altogether. You could set out to read just a single, specific book this year, like "War and Peace," "Ulysses" or The Bible. My own personal goal is to read "Lord of the Rings" this year.
You might consider joining a book club or even starting one of your own. Reading can become just that much more enjoyable when you know a group of your close friends are reading the same book at the exact same time. Discussing a book with others also helps you to understand the threads of deeper meaning that you may have missed.
If it helps keep track of what you're reading by ticking off books from a list or by logging them into a site like GoodReads.com. It's both amusing and enlightening to review your progress at the end of the year. Because of GoodReads.com, I now know that I read 60 books in 2010 (about 2/3 of them "classics literature"), which translates to roughly 17,000 pages.
Here's another benefit to making an attainable reading resolution: If you are able to meet your 2011 goal, the confidence you have in your resolution-keeping abilities will increase. Then Maybe 2012 can be the year that you finally, successfully quit smoking, lose 20 pounds or curb your nasty spending habits.
Melissa LR Handa is the founder and organizer for the Ann Arbor Classics Book Group and the Lead Books Contributor for AnnArbor.com. Her goal is to make classic literature more accessible to the everyday reader.