Posted on
Sat, Dec 3, 2011 : 6:44 p.m.
One of the original James Bond watches displayed in Ann Arbor
By Dell Deaton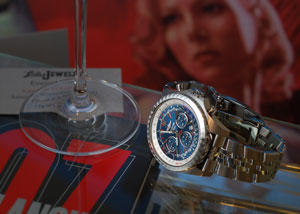 Dell Deaton | Contributor
Truly unique wristwatches, distinguished by the individual stories behind them, attract increasing collector attention.
There's a National Watch & Clock Museum in Pennsylvania, housing the largest collection of timepieces outside of Switzerland. Three years ago, its special exhibit of watches worn by U.S. Presidents commanded some of the largest visitor numbers it had ever seen. I was there.
Outside of this world, it's been more than four decades since the first moon landing. Yet NASA created and maintains a website with ongoing updates, dedicated to accounting for all mission-flown watches worn by Apollo astronauts.
And when it comes to the realm of fantasy, no timekeeping affiliation commands more attention than James Bond's watches.
Consider a sampling of auctions for screen-worn watches as bellwethers.
The Rolex modified to create a buzz-saw effect for the 1973 James Bond movie, Live and Let Die, sold for $242,655 at Christie's auction last month. Ten years prior, the winning bid was $37,560 for that exact same wristwatch, serial number 2683776.
More popular still, as it turns out, was the Omega Seamaster Planet Ocean, serial number 81084716, worn by actor Daniel Craig in Casino Royale (2006). That watch — including sand still encrusted from its time on location — sold for $255,565 in April 2007.
As big as these watches become, as of today, producers have yet to officially announce which watchmaker will be featured on the wrist of Agent 007 in the next James Bond film, Skyfall, when it premiers in late 2012.
So, until then, the most current James Bond watch remains the Breitling for Bentley Motors T Speed Chronograph, specified by author Jeffery Deaver in the novel, Carte Blanche (Simon & Schuster, June 2011).
James Bond may be a fictional character, but this watch is very real.
Model A2536513, serial number 2363493, to be exact.
Ron Peterson of Lewis Jewelers, Ann Arbor, made arrangements at my request, working with Simon & Schuster, for Deaver to wear this watch as part of the author's final book promotion tour stop for Carte Blanche late last June. This Deaver-Bond Breitling then traveled to the National Watch & Clock Museum, where it was displayed along side Ian Fleming's personal 1960 Rolex Explorer wristwatch as part of a special historical showing.
"Breitling doesn't do paid product placements," Peterson noted. "So there was no promotional arrangement in place to actually show fans and collectors what this Breitling model meant in terms of what the Bond character had chosen to wear in support of his mission cover in Africa.
"'Split-second timing' is also one of the defining, ongoing traits of the James Bond stories. That's why the watch makes the story and the hero much more credible."
During an exclusive in-person interview, Jeffery Deaver told me that he'd picked this Breitling, simply "because it was the best watch I could think of for the circumstances." Perhaps not coincidentally, "Breitling" and "Bentley" emerged just over a week later as two of only three brand references he promoted in an MSNBC television interview.
After all this, the Deaver-Bond Breitling then returned to Lewis Jewelers.
The watch was not shown again publicly until Lewis Jewelers made it available for only the second time ever, a special event it hosted in Ann Arbor on Nov. 12. Along with the watch, Ron Peterson had a copy of Carte Blanche, personally signed by Jeffery Deaver and uniquely inscribed to him, with a special Breitling for Bentley reference.
I believe that this is the first time since 2003 that any verified original James Bond watch has been displayed here in Michigan. The last time was as part of a special exhibit at The Henry Ford Museum.
Although the Carte Blanche James Bond Breitling is part of a private collection, Peterson believes it very likely will be featured again in a local showing that's being planned to coincide with the release of Skyfall next year.
Dell Deaton is an internationally recognized expert on Ian Fleming and James Bond watches, with published works including "Discovered: James Bond's Rolex," WatchTime magazine; "Secret History: The Seiko Watches of 007," Revolution magazine; "How I Found the Original James Bond Watch," Journal of the National Association of Watch & Clock Collectors; and the James Bond Watches Price Guide. Presently, he is curator for the second of two "James Bond" themed historic exhibits at the National Watch & Clock Museum in Columbia, Penn.