Posted on
Mon, Jul 18, 2011 : 2:26 p.m.
University of Michigan Press serializing 2 novels for free on Facebook
By AnnArbor.com Staff
As it continues moving forward in the world of digital book publishing, the University of Michigan Press has updated an old concept for a new era: the serialized novel.
Starting today, the imprint is offering two novels available for free, one chapter at a time, via its Facebook page.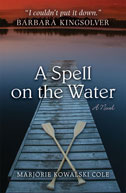 According to U-M Press, the two books being serialized:
• Marjorie Kowalski Cole's "A Spell on the Water," "about a woman attempting to put her family back together in a small town after her husband's death. Barbara Kingsolver said, 'I couldn't put it down.'"
• Becky Thacker's "Faithful Unto Death," "a historical whodunit set at the turn of the last century. When a mother of five mysteriously dies, is it illness, murder—or suicide?"
Both novels are being serialized free of charge online. The full books are available for purchase (in print or electronic form) for those who can't wait. But the online serialization is free, and is expected to be available until Labor Day weekend.
"These were two authors we were truly enthusiastic about. Their writing was beautiful, and their subjects were interesting. It's why we took on their novels to begin with. But neither is a household name, and in a market crowded with new summer novels, we wanted to give readers the opportunity to see the talent of these two writers for themselves, in whatever amount they desired, before they were asked to make a decision on whether or not they'd like to buy their books," Heather Newman, marketing and media manager for the University of Michigan Press, said in an e-mail. "Facebook was the medium we chose because it's an easy place to share good finds with friends, the way people used to loan books to each other over the course of a lazy summer on the beach. It's not the easiest way to read an entire novel, but we do honestly expect most who spend some time with Marjorie Cole and Becky Thacker's fictional families will want to own copies of the books, either on paper or electronically, for themselves."
To read the novels or for more information, see the U-M Press Facebook page.