Posted on
Sun, Mar 3, 2013 : 1:51 p.m.
Brave Bird Album Release Party
By Elisha Israel
This past Thursday, February 28th, I stopped into Sigma Phi to catch a few performances, headlined by local band Brave Bird for their album release. There were performances by Matt Terrian, Planetary, Empire! Empire! (I Was a Lonely Estate) and Brave Bird.
Matt Terrian is a member of the band Havnts, however he played a solo set. He played three songs on his electric guitar, two of which were originals he had written, as well as a cover of Bruce Springsteen's song, "I'm On Fire."
His set was self-described as "feelings rock. Not rock and roll and not this new fangled Ann Arbor emo," said Terrian. He sang his emotionally vulnerable lyrics with a wilting yet appealing voice.
"Music is therapy," said Terrian. "I don't do it to make money. I do it to feel better about bad things, and good things." His focused performances of each song were well contrasted by his relaxed banter with the audience in between songs.
If you would like to hear more of Matt Terrian's music, you can find it online at his band's bandcamp page, havnts.bandcamp.com
The next band to perform was Planetary.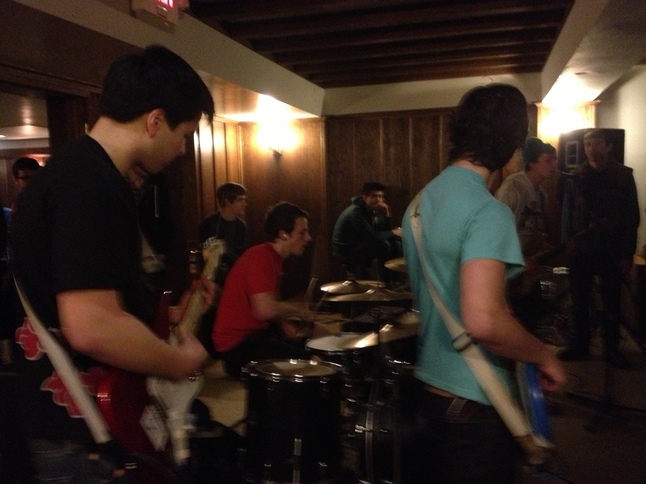 Planetary is a four piece band comprised of Charlie Held on drums, Max Brown on bass, Pat Wall on guitar and Michael Sandusky on guitar as well.
Planetary is a "punk band but we don't scream," said Held. "We're on the softer side of punk." Planetary is a band that loves to rock out, held together by Held's frenetic, impeccable drumming.
The band is influenced by The Swellers, Superchunk and Elvis Costello. "We set up Planetary with no expectations or goals. That's the basis of the band," said Held. "We believe when you set expectations in stone, it gets people mad at their friends. From day one, we were just a loose band. If we weren't having fun, we wouldn't be in a band."
Planetary had my foot tapping and my head bobbing their entire set. They started jamming together in October 2012 and already have a self-recorded album released. The album is called "This Winter Is Killing Me."
You can find that record, available for free download, as well as information about their upcoming house show on March 16th, at: http://planetarymi.bandcamp.com/
The next band to perform was Empire! Empire! (I Was a Lonely Estate).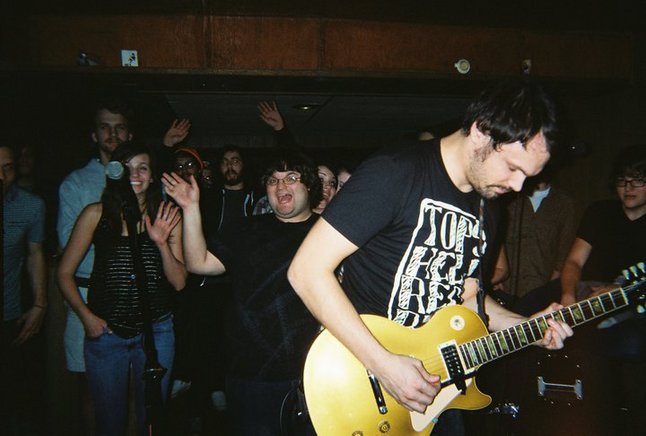 Empire! Empire! is a project by Keith Latinen, a multi-instrumentalist and vocalist. He usually performs with his wife, however, for this show, he was backed by John Steinhoff on drums, Joe McAndrew on bass and Jimmy McDaniels on guitar. "I borrow people a lot to play my shows," said Latinen.
Empire! Empire! was started in 2006, and has approximately nineteen releases. The majority of their releases are between two and four song EP's, however they do have one full length record.
In addition, Latinen told me that, "We're recording for a new full length that should be coming out this summer."
The band is best described as "mid 90's emo revival," according to Latinen, similar to bands such as Minimal, Appleseed Cast and Get Up Kids. "We like really pretty guitars. We like pretty, beautiful music. No one is playing anything great, but the sum of the parts is greater than the individual," said Latinen.
If you would like to find out more about Empire! Empire! (I Was a Lonely Estate), you can find them online at empireempire.com
The final act was Brave Bird.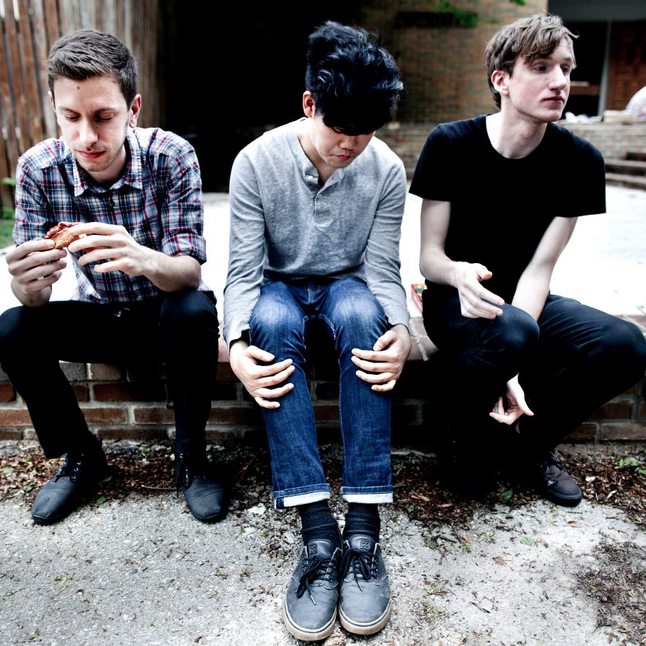 Brave Bird is comprised of Mike Politowicz, Chris Lieu and Mark Buckner. The band plays a post-emo style, drawing influences from emo, punk and rock. They are self-described as, "punk music with a technical spin," said Lieu. Politowicz added, "Emo with a punk spin."
They released their first album at this show. The album is called, "Maybe You, No One Else Worth It." The album was three years in the making, recorded over the course of three months by Matt Halliday at Minx Studios in Farmington Hills. This show was the kickoff show for their tour, a nine day trip to Florida and back.
Brave Bird has a polished sound and excellent song-writing. Their songs have a natural rise and fall, displayed by the band's ability to switch a song and lead it in a different direction at the right times. Lieu, the guitarist and vocalist, sings with an impassioned edge that turns into a snarl at times.
Brave Bird was relaxed during their song breaks, messing around on their instruments while Lieu bantered with the crowd.
"We want to have fun," said Lieu. "And 10,000 twitter followers," said Buckner. (twitter.com/bravebirdmi)
"We're all vegan and meat is murder," said Lieu. "And, we're the last of the famous international playboys."
If you would like to find Brave Bird online, you can find them at: bravebird.bandcamp.com