restaurant review
Authentic deli fare on the menu at The Bread Basket
Posted on Thu, Apr 22, 2010 : 5:24 a.m.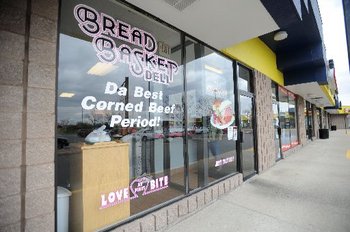 Angela Cesere | AnnArbor.com
As a child growing up in the Detroit area, there was a special restaurant just a few minutes from my house that brings back happy memories. I would go there with my father, where we'd split a giant corned beef sandwich, or with my great aunt, who always ordered cheese blintzes. Carrying out chicken soup there was a must when I had a cold. That place was Bread Basket Deli, and I still return there when I visit my parents.
Since settling in Ann Arbor, I've often daydreamed about having a similar type of deli here, a decidedly simple, anti-gourmet spot that specializes in traditional Jewish dishes. So I could barely contain my excitement when I heard another Bread Basket opened in January on the outskirts of Ann Arbor.
It's not exactly the same restaurant I frequented in Oak Park. One of the original Bread Basket owners, Al Winkler, went out on his own to start six other Bread Baskets around the Detroit area. He decided to launch his first franchise with this location, where Gus Avgoustise is the owner.
RESTAURANT REVIEW
Bread Basket Deli
4003 Carpenter Road
Ypsilanti
734-677-7717
Bread Basket Deli in AnnArbor.com restaurant guide
Hours: Monday through Thursday, 10 a.m.-9 p.m.; Friday and Saturday, 10 a.m.-11 p.m. Closed Sunday.
Plastic: American Express, Visa, Mastercard, Discover.
Liquor: No.
Prices: Moderate. A small single decker sandwich is $6.25; a large is $8.25.
Value: Excellent.
Noise Level: Quiet.
Wheelchair access: Yes.
Smoking section: No.
Of course, I wouldn't compare The Bread Basket with Ann Arbor's beloved Zingerman's. It's just a small place with a limited menu where sandwiches are the specialty, along with soups, salads and a handful of desserts. You order at the register and eat on paper plates. But the sandwiches come close in quality to those of the original Bread Basket where I grew up and are generally less pricey than Zingerman's.
The six-ounce corned beef sandwich is a bargain at $6.75, so tall you can barely fit it in your mouth. The meat is tender and perfectly seasoned. I also enjoyed the turkey and Swiss cheese sandwich and the tuna, which wasn't saturated with mayonnaise. The egg salad we ordered had a sour taste — possibly from the type of mayonnaise used — and I wouldn't recommend it.
The soup, with soothing chicken broth and a giant matzoh ball in the center, immediately transported me to my childhood, as did the cheese blintzes, which had a sweet filling wrapped in a tender, crepe-like exterior. One of the favorites of my visit was the potato salad, full of chunks of potatoes, with a thick consistency, as good as I've sampled in any deli.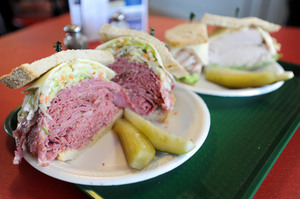 Angela Cesere | AnnArbor.com
Like any authentic deli, this is a place where it's hard to watch your weight. Even the more healthful options, like salad, pack a caloric punch, including the julienne salad, which is basically just iceberg lettuce topped with strips of ham, American cheese, turkey and a hard boiled egg — a simple concoction made better by the creamy garlic dressing.
What Bread Basket Deli could improve upon are the breads. I applaud their use of large rye and Kaiser rolls, but these types of breads are best served within a couple of hours of baking so they maintain that softness, and, in the case of the rye bread, that thick, crunchy crust. The bread was good, but not as fresh as it could be. And my daughter's routine grilled cheese didn't work well on this type of thick bread — better to stick with the white or wheat standby. That same slightly dry taste also was present in the lemon cake, and I'd suggest going with the light, creamy, wonderful cheesecake instead.
Still, these are minor quibbles in what otherwise satisfied my desire for authentic deli food. The Bread Basket is a great new offering in a town where another quality deli is welcome.