Posted on
Tue, Feb 19, 2013 : 7:59 a.m.
'BreakFest' serving up traditional music to benefit free breakfasts at St. Andrew's church
By Jennifer Eberbach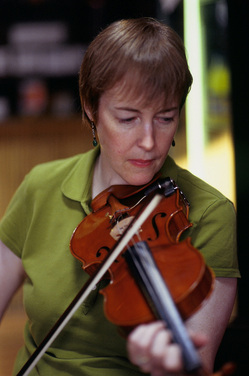 It was about 10 years ago that
Jim Cain
started volunteering at the free daily breakfasts served at
St. Andrew's Episcopal Church
. He started helping out by washing a lot of dishes. Around 150 people or so eat there every morning.
Flash forward to today, and the General Motors communications manager is producing annual benefit concerts that, since 2010, have raised the program $30,000.
The 4th annual BreakFest benefit will be held at The Ark on Sunday, Feb. 24 beginning at 1:30 p.m. The traditional music benefit features Irish fiddler Liz Carroll, Gypsy-jazz guitarist Evan Perri, and country-bluegrass band Bill Bynum & Co. The show will be hosted by Ann Arbor 107one radio DJ John Bommarito.
Headliner Liz Carroll is a Grammy-nominated Irish fiddler from Chicago. She will perform with Canadian multi-instrumentalist Jake Charron at The Ark show. In 2010 she and John Doyle were nominated for a Grammy for "Best Traditional World Music Album" for their duet album "Double Play."
Evan Perri is an acclaimed guitarist and member of Hot Club of Detroit. He will perform The Ark show backed by an organ trio. "In college [Wayne State], he was introduced to the music of Django Reinhardt, who was the original Gypsy jazz guitarist," Cain says of one of Perri's biggest influences. Hot Club of Detroit, with Perri on lead guitar, has won the 2004 Detroit International Jazz Festival and Detroit Music Awards.
PREVIEW
BreakFest 2013
Who: Irish fiddler Liz Carroll, Gypsy-jazz guitarist Evan Perri, and country-bluegrass band Bill Bynum & Co.
What: Annual benefit concert for the Breakfast Program at St. Andrew's.
Where: The Ark, 316 S. Main St.
When: 1:30 p.m. Sunday, Feb. 24.
How much: $25 and $40. Tickets available from The Ark box office (with no service charge); Michigan Union Ticket Office, 530 S. State St.; Herb David Guitar Studio, 302 E. Liberty St.; or online from the Michigan Union Ticket Office.
Bill Bynum & Co. have played regularly in the Ann Arbor area and around Michigan. A popular local area band, fans know that traditional and original bluegrass and country music is their game. Band members include
Bill Bynum
(vocals, guitar, songwriter),
Mary Seelhorst
(fiddle and vocals),
John Lang
(steel guitar), and
Chuck Anderson
(bass).
Due to a healthy amount of sponsors, "100 percent of ticket sales go to the breakfasts," Cain reports.
That money goes a long way, according to Cain. "The meals we serve are simple; they aren't expensive. But it goes a long way to making people a lot more food secure. A lot of the people who come in are homeless, but people might be surprised that there are an awful lot of folks who are working and just don't make quite enough to make ends meet," Cain says.
The free breakfasts are served every day from 7:30 a.m. to 8:30 a.m. at St. Andrew's Episcopal Church, 306 N Division St.
"The way it all started, and it remains true to this day, was that the breakfasts have been funded by private contributions for the most part. In the past, we were also getting some money from the City of Ann Arbor, and a lot of community groups support us such as Food Gatherers, the Ann Arbor Thrift Shop, and others," Cain says. But back in 2010, "The wheels were really coming off the bus in Michigan, and the City of Ann Arbor went through a lot of cutbacks, and funding was being lost," so they needed a new fundraising idea.
With a love for traditional music, Irish and Scottish fiddlers, and music in general, he proposed doing a music benefit at The Ark.
"I really admire what The Ark does, in particular the Folk Festival. So, I tried to model our concert on that as a scaled-down mini-festival. You can't ask for a better partner," Cain says.
"BreakFest" has brought in highly acclaimed national acts and popular local and Michigan musicians. Some of them are people Cain happened to know or connect with through friends. Others are people he reached out to simply because he likes their music.
"The good reputation of Ann Arbor, The Ark, and the cause itself gets people really eager to play. That's just built the momentum every year," Cain says.