Posted on
Thu, Jan 3, 2013 : 5:33 a.m.
Breathe Owl Breathe plays The Ark and Bill Bushart hits the Ann Arbor Comedy Showcase stage today
By Ann Dwyer
CRAFT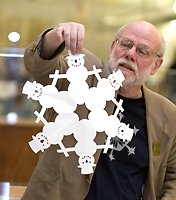 Take a "
Snowflake Making Workshop
" with "Doctor Snowflake" at the Gifts of Art Gallery at U-M Hospitals. Noon-2 p.m. In this annual workshop, snowflake master Thomas L. Clark shares his paper cutting techniques, and he helps participants try their hands at some seasonal designs. If attending the workshop, please bring scissors. If planning to bring a group, please call Gifts of Art at 734-936-ARTS (2787), as space is limited. Free. 1500 E. Medical Center Dr., Taubman Health Center North Lobby, Floor 1. Ann Arbor. 734-936-4000.
TEENS
Do the kids need something to do? They can make a "T-Shirt Backpack" at the Ann Arbor District Library, Downtown (main) Branch. 1 -2:30 p.m. Breathe new life into those ratty old T-shirts that are still too cool to throw out. Just bring the t-shirt(s), and the library will provide the rest. Free. For teens grades 6 - 12. 343 S. Fifth Ave., Ann Arbor. 734-327-4200.
MUSIC
See Breathe Owl Breathe, with special guest Jim Roll at The Ark. 8 p.m. This Michigan trio has roots in indie, classical and traditional music. They play original songs that combine vocals, guitar, percussion, and classical-style cello. Opening is songwriter Jim Roll, an unheralded linchpin of Ann Arbor's roots scene. $12.50. 316 S. Main St., Ann Arbor. 734-761-1800.
COMEDY
Bill Bushart will perform at the Ann Arbor Comedy Showcase. Today at 8 p.m. Friday and Saturday at 8 and 10:30 p.m. His repertoire of one-liners and high- energy stage shenanigans are one-of-a-kind. His quick wit and smooth delivery make his show one you won't want to miss. But be warned, his choice of topics can be rude, crude and downright raunchy. Thursday: $6 in advance; $8 at the door. Friday and Saturday: $10 in advance; $12 at the door. Downstairs at 314 E. Liberty St., Ann Arbor. 734-996-9080.