Posted on
Thu, Feb 11, 2010 : 5:26 a.m.
Stopping at 3 of Ann Arbor's favorite brunch spots
By Julie Halpert
With Valentine's Day on a Sunday this year, a perfect way to launch that romantic moment is to head to one of the area's special brunch spots.
Yes, an evening out dining by candlelight is always a nice option. But brunch can offer a great start to your day, and, in the case of those all-you-can-eat affairs, a way to gorge yourself for a relatively reasonable price. I decided to visit three of Ann Arbor's more popular options for brunch.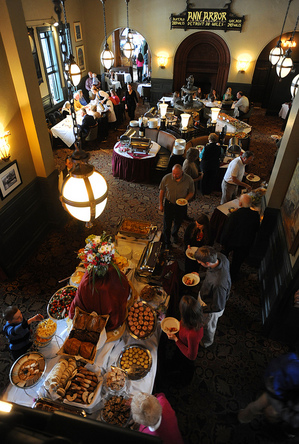 Melanie Maxwell I AnnArbor.com
I started with the most elegant, and priciest, the Gandy Dancer. When I phoned to make a reservation, I was asked whether we were celebrating a special occasion. And that's no surprise, since this is clearly a place for celebrations.

Housed in a historic building overlooking the train tracks, with high ceilings and bright windows all around, Gandy Dancer wins the award for most scenic and elegant, a perfect setting for your Valentine's Day date. And since brunch is served until 2 p.m., you can head here after a leisurely morning.
You should definitely come hungry. There is such an assortment of food, it's hard to know where to begin. I didn't waste time, placing an order with the server for a made-to-order omelet. It had a nice consistency, fluffy and moist, but my mushrooms were hanging off the end of the omelet, entirely uncooked, while my husband's omelet was dry.
The buffet has numerous stations, with everything from breakfast offerings like sausage and French toast, to lunch salads and main courses, as well as a prime rib carving station, a seafood area and a table full of fresh fruit and pastries. Of course, I felt compelled to sample everything — no small feat.
---
Gandy Dancer
401 Depot St.
Ann Arbor
734-769-0592
Gandy Dancer in AnnArbor.com restaurant guide
Hours: Brunch buffet is served Sundays from 10 a.m. to 2 p.m.
Plastic: Visa, Mastercard, American Express, Discover.
Liquor: Yes.
Prices: Moderate. The charge is $20 for all-you-can-eat.
Value: Excellent.
Noise Level: Loud when crowded.
Wheelchair access: Yes.
Smoking Section: Yes, but just in the lounge.
---
The more gourmet breakfast offerings were standouts. Praline French toast, laden with a rich, sweet syrupy sauce, was a wonderful version of the classic dish, while the Belgian waffles, cooked while you wait, also benefited from a banana-flavored syrup. I could have easily stopped there.
As for lunch entrées, the herb-roasted chicken brought delicate seasonings to chicken wings, which were wonderful. Though I didn't hesitate to indulge in the caloric offerings, you could, if you desired, choose from many healthful options, like two choices of salmon, both delightful, and Martha's Vineyard salad as well as the very solid tortellini salad. Basic shrimp, oysters and mussels are there as well, providing some lighter choices.
Pace yourself so you can save room for dessert, where there are several choices scattered amidst a plethora of colorful fruit. All were outstanding and beautifully presented. The pistachio cake was the most unusual flavor, but I liked the moist German chocolate cake and brownie just as much.
Our server was cheery and delightful, often returning to clear our plates so we could make another trip and refilling our coffee and water. As for the coffee, the icing on the cake for this type of dining experience would be a stronger, more full-bodied brew. Ours tasted like typical hotel coffee, watery and limp. Still this is a minor quibble with what was otherwise a luxurious dining experience.
If bacon and sausage aren't your thing and you're craving a more healthful, vegetarian start to your day, Seva Restaurant is a great option.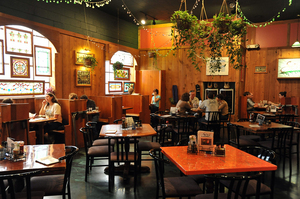 Angela J. Cesere | AnnArbor.com
Long a leader in offering pure vegetarian cuisine with an international flavor, this restaurant features roughly a half-dozen different brunch entrées every Saturday and Sunday, always including a waffle, omelet and burrito dish, as well as a separate breakfast menu, both offered until 3 p.m. Seva is casual and welcoming, offering warm surroundings with twinkle lights that sparkle from the ceiling.
My favorite, hands down, from our selections was the mocha hazelnut waffle. Espresso and cocoa provided an exotic, flavorful twist, while roasted hazelnuts offered the perfect accent. Healthful is a focus here, and my husband's omelet was stuffed with an abundance of fresh broccoli and peppers. Better than the omelet were the accompanying hearty potatoes, which had a wonderful mix of spices.
---
Seva Restaurant
314 E. Liberty St.
Ann Arbor
734-662-1111
Seva Restaurant in AnnArbor.com restaurant guide
Hours: Brunch is served Saturdays 11 a.m. to 3 p.m.; Sunday, 10 a.m. to 3 p.m.
Plastic: Visa, Mastercard, American Express, Discover.
Liquor: Yes.
Prices: Moderate.
Value: Very Good.
Noise Level: Quiet.
Wheelchair access: Yes. There's a ramp at the side of the building.
Smoking Section: No.
---
Seva brings some of its international dishes to brunch. The Baja burrito, a whole wheat flour tortilla filled with eggs, black beans and laden with a dense amount of tomato sauce, was enormous and incredibly filling. Challah French toast was fine but not outstanding, a rather mediocre version of this dish.
I also like that Seva provides wonderful coffee drinks; the latte was delicious, as was the hot cider. Service was sketchy on the day we were there. Our server seemed distracted. It took him quite a while to take our orders and then he had to be reminded to bring a couple of items. Still, I always feel like I'm doing right nutrition-wise when I head to Seva, so it's a guilt-free weekend eating experience.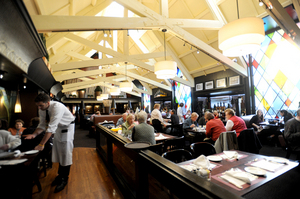 Angela J. Cesere | AnnArbor.com
My last stop was a long-time traditional brunch spot: Weber's Restaurant. Weber's, which has been around for the past 50 years, is a step back in time. It's a cozy spot on a wintry Sunday morning, accented with warm brown tones from the tables to the beamed ceilings, along with art deco light fixtures. A few families surrounded the pianist, who was providing live music.
Weber's give you a choice of ordering breakfast standards off the menu — items like omelets, oatmeal and bagels — while an expansive brunch highlights more lunch and heavier entrées. With the all-you-can-eat buffet priced at $9.25, this is by far the best value, especially if you like eating dishes like freshly carved ham and chicken any time between 9:30 and 1 p.m.

These are the type of nostalgic entrées cooked in kitchens a generation ago, like corned beef hash, beef tips and rice, even green jello and that hallmark 1960s-era dessert, ambrosia. There's also breakfast food like pastries, Eggs Benedict, potatoes and a waffle bar. Unlike The Gandy Dancer, the dishes aren't labeled here, and it was tough to discern what many of them were.
---
Weber's Restaurant
3050 Jackson Ave.
Ann Arbor
734-769-2500
Weber's Restaurant in AnnArbor.com restaurant guide
Hours: Buffet brunch served from 9:30 a.m. to 1 p.m. every Sunday.
Plastic: American Express, Visa, Mastercard, Discover, Diners Club.
Liquor: Yes.
Prices: Inexpensive. Buffet brunch is $9.25 for adults.
Value: Excellent.
Noise Level: Loud.
Wheelchair access: Yes.
Smoking Section: Yes, but in the bar, not where the brunch is served.
---
I preferred the items we ordered off the menu to the brunch buffet. My husband's cheese and pepper omelet was solid, as was the oatmeal, by far the healthiest option amidst all of the choices. My daughter ordered a bagel and lox, and there was enough smoked salmon for several sandwiches, beautifully adorned with capers and hard boiled eggs.
As for the buffet, the scrambled eggs I sampled were moist, just the way I like them, but they were cold. Potatoes were undercooked and suffered from a lack of seasoning. The waffle — as well as the many breakfast pastries, including cinnamon rolls — were dry. I didn't delve extensively into the main course dishes except for the chicken, which tasted rubbery. But just because these types of rich, heavy meals aren't my favorite doesn't mean others won't enjoy them, and many were doing just that on the jam-packed morning when we dined there.
Regardless of your tastes, inclinations and ambience cravings, Ann Arbor offers plenty of suitable offerings for you and your sweetheart this Valentine's day. These three are just a start.