Posted on
Sat, Apr 21, 2012 : 9:30 a.m.
'Bully' draws strong reactions at its Ann Arbor premiere
By Danny Shaw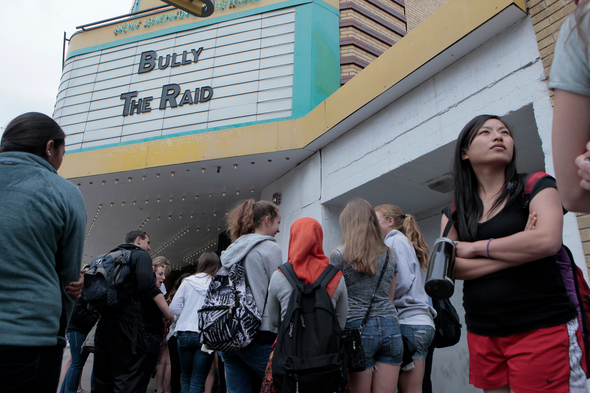 Chris Asadian | AnnArbor.com
For a group of Ann Arbor teens, the premiere of "Bully" was more than a Friday movie outing—it was an emotional and educational experience.
Emerging from the State Theatre rubbing each others' backs and wiping away tears, those who attended the first local screening of the documentary on bullying found that it tugged at the heartstrings.
"For half the movie, my heart just dropped, " said Marisa Huls, Ann Arbor Pioneer High School junior. "It was so much more powerful than I thought it was going to be."
Huls watched the film with 34 fellow students from Pioneer. The group is part of the school's girls' lacrosse team.
"I wanted all of us to see it together," said Pioneer lacrosse coach Zach Maghes. "It's so important to see something like this. They've been learning a lot about bullying in school lately so it's the perfect time to see the movie."
"Bully" has a special connection to Ann Arbor: Local student Katy Butler waged a high-profile—and ultimately successful—campaign to get the movie's rating changed from R to PG-13 so more teens could see it. It has been in limited release across the country, and Friday saw it open locally at the State Theatre.
While standing in line for tickets, Huls said she was a bit anxious to watch the documentary because she was a victim of bullying growing up.
"I'm probably going to get a little emotional, I think," Huls said. "I was bullied from elementary school up until pretty much last year. It's something I want my old bullies to watch. Everyone needs to understand that it really affects people."
After seeing the documentary, Huls congregated outside the theater doors with her teammates, some of whom hugged each other and fought back tears.
"It actually hit me worse than I thought it was going to," she said. "I knew it was going to hit some nerves and everything, but not like that."
Huls' teammate Samantha Brandt, a sophomore at Pioneer, also left the theater filled with emotion.
"I think schools should have this movie on DVD and show it every year," Brandt said. "I don't think it matters what age you are because it starts young.
"I've been bullied before . . ." she added, fighting back tears, "and it was horrible."
Other "Bully" reactions in the video below: