movie review
metro times:

'Bully' shines a light on a growing problem

Posted on Fri, Apr 20, 2012 : 4:07 p.m.
Bully
Opens today at the State Theatre
Review by Jeff Meyers of the Metro Times
Grade: B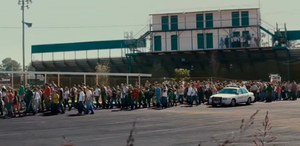 The challenge with writing a review of an activist or social issue documentary, particularly when the topic is as important and timely as childhood bullying, is that you have to balance the message and intention of the film against the effectiveness and artistry of its filmmaking. On the first count, Lee Hirsch's "Bully" is undeniably important, a call to action — or, at least, awareness — of a growing problem in American schools and neighborhoods. On the second count, however, his documentary leaves much to be desired.
Though "Bully" may go down in cinema history as the movie that best challenged the police-state ethics of the MPAA ratings board (another kind of bully in its own right), its legacy will probably end up being more of a footnote than a game-changing influence.
Read the full review here