Posted on
Sat, Jan 26, 2013 : 11:01 a.m.
Burns Park Players celebrating 30th anniversary with 'Anything Goes'
By Jenn McKee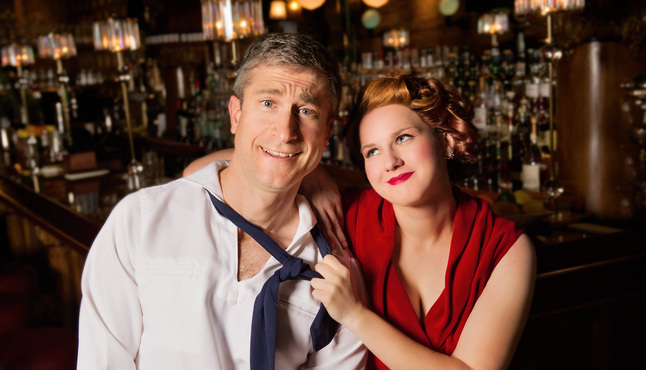 Photo by Myra Klarman
After a good bit of brainstorming,
Quinn Strassel
- the
Community High School
drama teacher who's now directing his second
Burns Park Players
production - arrived at the perfect show for BPP to produce for its
30th anniversary
: "Anything Goes," a wacky, classic, '30s era musical set on an ocean liner, featuring the music of
Cole Porter
.
Shortly thereafter, though, Strassel learned that Ann Arbor Civic Theatre also planned a production of "Anything Goes" - and this, understandably, gave him pause.
"There were definitely talks about whether we should keep doing it," said Strassel. " … We finally arrived at, 'This is the right show to do.' … But I had to be talked into continuing with it. Burns Park Players has this unique, loyal audience, so even though we're in the same town (as Civic), there may not be as much crossover as one might think. … So that's what finally convinced me."
PREVIEW
"Anything Goes"
Who: Burns Park Players.
What: Celebrated, classic musical comedy that features the music of Cole Porter and takes place on an ocean liner. Showgirls, gangsters, and crazy lovers are all on board for this madcap story of adventure and romance.
Where: Tappan Middle School, 2251 E. Stadium Blvd. in Ann Arbor.
When: Friday and Saturday, February 1-2, at 7:30 p.m.; Friday, February 8 at 7:30 p.m.; and Saturday, February 9 at 2 p.m.
How much: $15 ($30 for patrons, with reserved prime seating and parking). Tickets available at Morgan and York, 1928 Packard St. in Ann Arbor. For patron tickets, send an email to bpppatrontickets@gmail.com, with "patron tickets" in the subject line, and in the message, specify what performance you'd like to attend, and how many patron tickets you need.
What made "Anything Goes" such a good fit for BPP - a group that primarily consists of Burns Park students, parents, teachers, and neighbors of various ages?
"My primary goal for the Burns Park Players' 30th anniversary was to have something big and fun," said Strassel. "One of the challenges was, because (BPP) has done shows for 30 years now, what shows haven't they done? This is one of them. The (tap dancing) was the sticking point for years. … It made me hesitant to take it on, too. But I got a couple of choreographers to make it happen, so we took the risk."
Indeed, "Anything Goes" is famously dance-heavy, highlighting Porter hits ("You're the Top," "I Get a Kick Out of You," "It's De-Lovely," etc.) while telling the zany story of a young Wall Street broker named Billy Crocker, who has fallen in love with the American debutante and heiress Hope Harcourt. Billy enlists the help of evangelist-turned-nightclub-singer Reno Sweeney and "Public Enemy Number 13" Moonface Martin to win Hope away from her fiance, the wealthy Englishman Lord Evelyn Oakleigh. Exotic disguise, blackmail, and madcap antics ensue.
"I've started making connections between Shakespeare comedies and this show," said Strassel. "A couple of years ago, I did 'As You Like It' at Community, and there are a lot of plot elements that don't really work - mistaken identities; improbable romances that work out, out of nowhere; stock comic chars - you kind of forgive some of Shakespeare's plot lapses because the writing's so good, and because the characters are so strong. And the more I look at this show, the more I think the same logic applies. Cole Porter's songs are so strong, they leave the whirlwind of a plot behind, and you just leave the theater singing the songs."
And like a Shakespeare comedy, children don't play a starring role in "Anything Goes." So like any director of a Burns Park Players show, Strassel has had to find creative ways to integrate the youngest members of his cast - 95 Burns Park Elementary School students.
To this end, Strassel has consulted former BPP director Mike Mosallam. "He said, 'Once you've done a few of these, it becomes intuitive,'" said Strassel. "And you have to think about who the kids are in a scene. You can't just have the kids go on stage and then go off. You have to think artistically about why they're there."
For "Anything Goes," Strassel has made many of the kids fellow passengers on the ship - French children, in some cases, who exasperatedly correct the American adults' pronunciation of "bon voyage"; and kids also back up Moonface Martin as he encourages Billy to change his attitude and "Be Like a Bluebird" when they're locked up in jail.
"In some ways, it's really overwhelming, trying to get kids involved, but by the end, I'm finding they always add to and enhance the experience," Strassel said.
In addition to the show's 95 kids, there are 43 non-student cast members, and a 120-person crew. The cast's age range is 6 to 93, and as always, proceeds from BPP's show will benefit performing arts in the Ann Arbor Public Schools. (Since its inception, BPP has contributed more than $267,000 to AAPS students.)
With such a large group, Strassel has to be a crowd wrangler as well as a director. But he noted that this "is a challenge, but also the thing that excites me most about this group. I saw (BPP's production of) 'How to Succeed in Business Without Really Trying,' … and I thought, this looks like so much fun to be in this group. They're having so much fun up there, and it was amazing to see a stage that full. … And I love the generational aspect of it. Watching it, you get the sense that it's a real, genuine representation of our community, which is so rare to see."
Christopher Taylor, an Ann Arbor City Council member, is one of the show's stars. "I think the best part is it builds a tremendous community," Taylor said of the group. "There are few opportunities to be engaged in these ongoing, common project with neighbors. This is a shining example of one. We work together in the dead of fall and winter for weeks on end (and) we have a great time doing it. And we really build friendships and relationships that make the Burns Park area a great place to live."
For Taylor, who earned a vocal performance degree from U-M in 1990, the Burns Park Players is a family affair. He has been in two previous shows, his wife, Eva Rosenwald, while not on stage for this production, has been involved in coordinating and choreographing the kids' parts. And their two children are in the show as well.
"Proving support for the AAPS arts program is a noble purpose and we're delighted to do it," he added.
Roger LeLievre contributed to this report.
Jenn McKee is the entertainment digital journalist for AnnArbor.com. Reach her at jennmckee@annarbor.com or 734-623-2546, and follow her on Twitter @jennmckee.