Posted on
Sat, Feb 5, 2011 : 12:35 a.m.
Burns Park Players succeeds at making 'Business' another solid musical hit for local group
By Roger LeLievre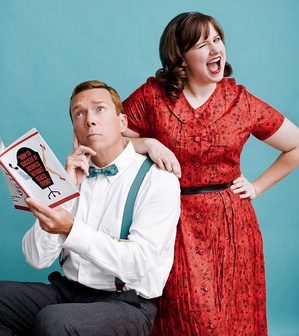 Photo by Myra Klarman
Every year I marvel at how The Burns Park Players manages to give around 100 children, grades 1-5, their share of stage time in the Ann Arbor neighborhood's annual musical.
This year I was especially curious, given that the show, "How To Succeed in Business Without Really Trying," set in the business world of adults, has no roles for kids.
All my questions were answered Friday night, when "Business" began its two-weekend run at Tappan Middle School auditorium.
Once again, director Mike Mosallam seamlessly merged the children into the production. In a new prologue, a group of youngsters are asked by their teacher what they want to be when they grow up. Later on, during a college team fight song sung by adults, boys are cast as pint-sized football players with girls on the sidelines as cheerleaders. In a scene where the children are dressed in business attire as kind of a junior-executive vocal chorus, they all looked adorable in their pint-sized office garb.
Some have said that "How To Succeed" is too adult of a production to have kids in it; I didn't have a problem with that. And in any event, the show's mild adult content seems tamer still by today's television standards, and much of the production's humor is more sly innuendo than overt behavior.
Anyone familiar with the Players' annual musical knows that professional-quality productions are the norm, and this year's show is no exception, especially given that the performers are not pros, but neighborhood residents, teachers, and school staff members. Besides the children, the show also includes around 70 adults, and it's a superb ensemble one and all, directed with a light touch by Mosallam. As usual, proceeds benefit the performing arts in the Ann Arbor Public Schools.
"Business" follows the meteoric rise of window-washer J. Pierrepont Finch (Jeffrey Post) who, by using tips from a satirical book called "How to Succeed in Business Without Really Trying," plots his ascension from the mail room to the executive suite of the World Wide Wicket Company.
Ambition and confidence fairly shone from Post's face Friday night as he went about his calculated rise. His toothy grin charmed the audience as much as it attracted Rosemary (the honey-voiced Caroline Huntoon), the secretary who falls for him at first sight, despite skepticism from coworker Smitty (brassy, sassy Talia Glass).
Finch's nemesis is twitchy Bud Frump (Ben Cohen), who has gotten his job through nepotism and schemes at every turn to bring Finch down. Cohen nearly stole the show with his over-the-top portrayal of the luckless Finch that never devolved into downright meanness.
Also terrific were Joel Swanson in the dual role of scene-stealing Chairman of the Board Mr. Womper / mail room head Twimble and Lisa Harris, whose executive secretary Ms. Jones, played with cartoonish sensuality, was a hit. Corporate bigwigs Tom Borque (Bratt), Fred Hall (J.B. Biggley) and Bob Galardi (Gatch) were sturdy players as well.
Of the musical numbers, Post and Swanson's duet on "The Company Way," the dancing secretaries in "A Secretary is Not A Toy," and Post's inspirational "I Believe in You" were standouts, but "Brotherhood of Man," with its high-stepping chorus line of men in suits, was a near showstopper. In fact, the cast handled the dancing with aplomb throughout; credit Mosallam and co-choreographer Christie Schauder for that. A scene set in the men's washroom was memorable not as much for what was going on in the foreground but the activity in the background, a nice extra touch in a show that seemed full of them.
Finally, the set and costumes really evoked the mood of the early 1960s (think TV's "Mad Men") and the pacing really kept the show's energy at a high level. Eric Lofstrom's orchestra sounded great Friday night as well.
Bravo! And annual bonuses to all involved.
"How To Succeed in Business Without Really Trying," continues Saturday at 7:30 p.m. and Thursday-Friday, February 10-11 at 7:30 p.m. and Saturday, February 12 at 4 p.m. Tickets are available at Morgan & York market, 1928 Packard, or at the door one hour before the performance. For premium tickets, call 734-478-0449.
Roger LeLievre is a free-lance writer who covers music and theater for AnnArbor.com.