Posted on
Fri, Jul 5, 2013 : 5:30 a.m.
David Byrne, St. Vincent bringing new songs, Talking Heads classics to Michigan Theater
By Kevin Ransom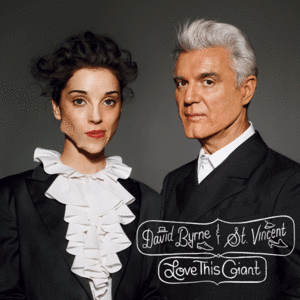 When
David Byrne began his musical collaboration with St. Vincent
, back in 2009, it probably struck longtime Byrne fans as an unlikely and surprising partnership, at least initially. For starters, Byrne was 57 at the time, while St. Vincent was 26.
And Byrne has been an art-pop icon since the late 1970s, starting with his stint as the jittery, tightly wound frontman for Talking Heads—a groundbreaking band, and one of the most important groups that emerged during that late-'70s-to-late-'80s era—and continuing on with his acclaimed solo work and collaborations with the heavyweight likes of Brian Eno, Twyla Tharp, Caetano Veloso and Richard Thompson.
Indeed, Byrne has been one of the most innovative and critically lauded pop-music figures of the last 35 years.
Meanwhile, St. Vincent, the indie-rock guitarist-singer-composer, had only been recording and performing for six years, and had just released her solo debut album, "Marry Me," in 2007.
But their collaboration has yielded much fruit. First was the inventive and widely praised 2012 album "Love This Giant," and then an exciting, equally-well-received tour.
And now comes a new EP and a second tour that stops at the Michigan Theater on Monday. The new EP, "Brass Tactics," was released in May as a download only—and a free one, at that. As for its contents, let's let Byrne explain:
PREVIEW
David Byrne & St. Vincent
Who: Eccentric art-pop icon meets up-and-coming young guitarist-singer-composer.
What: Choreographed, brass-band-driven performances of songs from their 2012 duo album, "Love This Giant," as well as brassy re-working of Talking Heads songs, solo-Byrne songs and tunes from St. Vincent's solo albums.
Where: Michigan Theater, 603 E. Liberty St.
When: Monday, July 8, 8 p.m.
How much: $65 and $45 seats still available. Tickets can be purchased at Ticketmaster outlets, online at ticketmaster.com or by phone at 800-745-3000.
"After the release of 'Love This Giant' last year, we did a tour of North America and Australia that was like nothing we've ever done before—drums, keys and Annie and I supported by 8 choreographed brass players," Byrne recently said on their LoveThisGiant.com website. (St. Vincent's real name is Annie Clark.)
"We did the new material, but also a lot of recognizable songs, arranged for that group. The sound is incredible, and it's a bit of a visual spectacle as well. We were pretty excited at how it turned out," Byrne continued.
"One of our business folks had the idea that we might offer a taste of what we're up to—so we put together an EP to give folks a taste of what to expect. It has one song that didn't make it on the record (a waltz featuring some lovely glass harmonica), a couple of energized remixes of some of the album tunes and two live tracks of the sort of more familiar material we do in the set."
So, he said: "Beware a DB/STV band bicycle gang storming your town's best local haunts. Summer is here. Let's dust off our choreography shoes and get back in there."
The aforementioned waltz-like outtake from "Love this Giant" that appears on "Brass Tactics" is the meticulously arranged "Cissus." The two remixes from that album are "I Should Watch TV (M.Stone Remix)" and "Lightning (Kent Rockefeller Remix)," which are both pumped up with driving, dance-rock beats.
Two of the "familiar" songs Byrne refers to are live, brass-driven re-workings of the Talking Heads' "Road to Nowhere" (the original was on the Heads' "Little Creatures" album in 1985), and St. Vincent's "Marrow" (from her 2009 "Actor" album.)
And on the current tour, they've been doing brassy re-arrangements of other classic Heads songs like "Burning Down the House" and "Wild Wild Life," as well as re-workings of a few St. Vincent songs.
The brass-band arrangements were at the core of the "Love This Giant" album and their 2012 shows, and remain the key component of the performances on the current tour. As Byrne and Clark were writing and preparing the songs that became "Love This Giant," Clark suggested that, instead of using a standard rock n roll line-up, they should write songs for a brass-band ensemble—and the songs, and album, took off from there.
And on some of the songs, the brass-band blasts reflect the urban clamor of the streets of New York City, where Byrne and Clark both live.
The lyrics were a collaborative effort by Byrne and Clark, and many of the songs featured surreal, enigmatic depictions of nature, with titles like "Ice Age," "Forrest Awakes," "Lightning," and "Weekend in the Dust." One was about an urban dystopia, another about an imminent natural disaster—but in most cases, those songs then took a left turn and went off in unexpected directions.
Byrne and Clark also shared vocal duties. And after all these years, Byrne hasn't lost anything off of the top end of his vocal range. And he still employs the deadpan vocal drollery that created such tongue-in-cheek tension on those classic Heads songs. And onstage, he's often just as physically animated and amusingly theatrical as he was in his days with the Heads.
"We took (the brass-band arrangements) as a starting point, we passed musical ideas, lyrical ideas, back and forth," says Byrne in an interview on their website. "It took a while, a year or so—we both had other things to do, tours and records and all that—but after a year we had about four songs. We thought, let's see how these come out and see if we want to move forward…Then somewhere along the line we decided, let's do some more."
Their ideas, says Clark in the same interview, "came in various forms. Sometimes they would be very skeletal—David would send me a melody and chords, and I would try to write words to it or rearrange it for horns. Sometimes I would send him arrangements that didn't have melodies and he would write melodies over it and send it back. This is an honest-to-God collaboration; there really is no delineating what the roles were."
In order to record the basic tracks, with a dozen or more brass players—who needed to be in the same room, performing together, as opposed to overdubbing—Byrne and St. Vincent chose the cavernous studio of Water Music in Hoboken, New Jersey.
Recalls Byrne: "It was kind of like, how great a variety of sounds and textures and colors and grooves can you get with that set of instruments? Can they do an orchestral ballad, can they do a funk groove, all the kind of stuff?"
Turns out that they could do all that and more, and as the sessions continued, all parties involved realized they were creating something unique—something that initially confused some Byrne fans. But, given how eclectic, musically curious and artfully eccentric he has always been, whether in the Heads, as a solo artist or as a collaborator—one project that comes to mind is his hot, horn-fueled, 1989 Latin-music album, "Rei Momo"—they really shouldn't have been confused.
"I was a fan (of Clark's music)," explains Byrne in the website interview. "So it started off like that. But you still don't know if it's going to work, so there's a little bit of getting to know one another, and seeing how something like that can work. Especially when it's something like this where it's a little more complicated than, 'I have a song, can you write words to it,' or, 'I have a song, will you sing it?' This is more of a real collaboration."
Kevin Ransom, a freelance writer who covers music for AnnArbor.com, first wrote about David Byrne and the Talking Heads in 1982. He can be reached at KevinRansom10@aol.com.