restaurant review:

Expanded offerings add to the appeal of Café Luwak

Posted on Thu, Jun 10, 2010 : 5:27 a.m.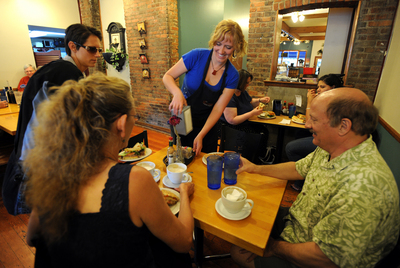 Lon Horwedel | AnnArbor.com
As we were dining at Café Luwak, a quaint restaurant in Ypsilanti's historic Depot Town, one of the cooks stopped by to have us sample one of his latest creations: a sandwich with blackened chicken, ranch dressing, jalapeno and pepper jack cheese.
The sandwich focus is the latest offering of owner Jim Karnopp, who opened Café Luwak five years ago. He began upgrading the kitchen last year to expand the menu to include more grilled sandwiches, as well as pasta, hamburgers and breakfast items. Now, there are roughly two dozen grilled sandwiches in addition to cold sandwiches, wraps and subs.
Café Luwak is part sandwich shop, part coffee shop and part ice cream store. The restaurant's ambience is warm and weathered, with a large counter in the front of the store and seating in the back. The wooden floor is scuffed up and tables are basic. We were offered an al fresco spot on the outdoor porch, but declined, as the view was a dismal-looking parking lot.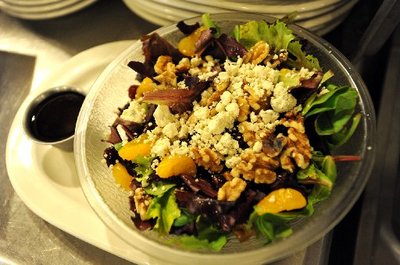 Lon Horwedel | AnnArbor.com
In addition to the sandwiches, Café Luwak has a variety of side salads — and both of the ones we chose, potato salad and sesame Thai noodle salad, were fantastic.
The potato salad had thick chunks of potatoes, as good as I've sampled in any deli. The Thai noodle spices were particularly appealing.
I also thoroughly enjoyed the Michigan Harvest Citrus Salad, with a mix of fresh greens, walnuts and cheese. The best part was the dressing, raspberry vinaigrette with a citrus twist that lent a light, fruity taste.
The lunch menu is served well into the evening, perfect if you're looking for a light dinner.
Lon Horwedel | AnnArbor.com
As for the sandwiches, my daughter opted for the build-your-own version, selecting turkey, Swiss cheese, lettuce and mayonnaise, grilled on Italian bread. The bread is fresh and thick, an ideal base for the generally solid sandwiches. The turkey in her sandwich, as well as the Tom's Choice — smoked breast of turkey with cheddar, cucumber and ranch on grilled challah — was fresh and quite good, though the challah didn't taste much different than the Italian bread.
My older daughter opted for one of the many vegetarian choices, the Heartbreak: avocado, mozzarella, grilled onion, tomato and hot sauce, grilled on Italian bread. It was a better choice for those who prefer very spicy ingredients; this packed a good deal of fire — too much for her palate and mine. The same can be said for the blackened chicken in the menu's only pasta dish. While the pasta was heavenly, noodles in a light cream and onion sauce, the chicken was so spicy I could barely touch it.
RESTAURANT REVIEW
Cafe Luwak
42 East Cross Street, Ypsilanti
734-482-8050
Café Luwak in AnnArbor.com restaurant guide
Hours: 8 a.m.-9 p.m. every day.
Plastic: Visa, Mastercard, American Express, Discover.
Liquor: No.
Prices: Inexpensive to moderate. A half sandwich is only $4.50, while a full one is no more than $7.
Value: Very good.
Noise level: Quiet.
Wheelchair access: Yes, through the front door or through a ramp in the back of the restaurant.
Café Luwak serves breakfast as well, though we arrived too late to try any of the breakfast wraps or croissant sandwiches. I did have the pleasure of sampling the cappuccino, which came in an enormous white mug, with a healthy amount of foam on top. It was great paired with the ice cream that capped off our delicious (yet not extremely caloric) experience here.
The restaurant has all of the old-time fountain favorites, including sundaes, made with Stroh's ice cream, floats and fresh baked pastries. Three of us happily shared the banana split, substituting one of the ice cream flavors for the peanut butter-infused Moose Tracks. The sugar cookies we ordered tasted just-baked and were soft and chewy, absolutely delicious.
Prices are extremely reasonable. Many items are offered in a half-portion, with several ample half sandwiches costing only $4.50.
Our server was extremely friendly, though was harder to find as the evening progressed and the restaurant grew busier. We needed to hunt him down to pay the bill. Still, Café Luwak remains a great place to go if you're craving high quality coffee or lunch fare or want to indulge in an ice cream treat this summer.