Posted on
Thu, Mar 17, 2011 : 5:27 a.m.
Cafe Ollie a worthy successor in Cafe Luwak space
By Julie Halpert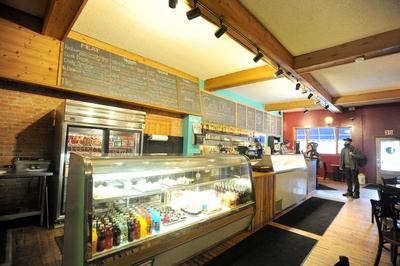 Angela J. Cesere | AnnArbor.com
I was disappointed to hear that the charming Cafe Luwak in Ypsilanti's Depot Town had closed. But I'm pleased to report that its successor, Cafe Ollie, remains in capable hands under the ownership of Mark Teachout.
Teachout opened Cafe Ollie on Jan. 25. He left the interior exactly as he found it. It has the feel of a cozy, funky coffeehouse, with well-worn hardwood floors, exposed brick, a couple of comfortable chairs you'd find in a living room, along with basic, hard tables and the art of local artists filling spaces on the long, deep red walls.
Like its predecessor, Cafe Ollie is set up to provide service from a central counter that lists menu items on a big chalkboard on the wall. There's also a freezer case for ice cream and a display of homemade cupcakes.
RESTAURANT REVIEW
Cafe Ollie
42 E. Cross St., Ypsilanti.
734-482-8050
Hours: Monday-Friday, 8 a.m.-7 p.m.; Saturday, 9 a.m.-7 p.m.; Sunday, 11 a.m.-5 p.m.
Plastic: Visa, Mastercard, American Express.
Liquor: No.
Prices: Inexpensive. Many sandwiches are $6.50.
Value: Very good.
Noise level: Quiet.
Wheelchair access: Yes.
Since they were prepared and available immediately, I allowed my kids to start with dessert, and it was a great beginning to our meal. The chocolate cupcake had peanut butter throughout and was topped with a sinful peanut butter ganache.
The best was the chocolate cupcake with the caramel center. All the cupcakes we tried were incredibly moist, and the icing was thick and fluffy, with a mousse-like consistency that made it good enough to stand on its own as a treat.
This place offers lunchtime fare, with a large variety of vegan and vegetarian sandwiches, along with some for meat eaters, as well as soup and salads. The "Geek" salad had plenty of fresh ingredients, including a nice touch, candied walnuts, though I didn't think the raspberry vinaigrette dressing was an appropriate complement. Standard Greek dressing would have been better.
The highlight here is the homemade breads, prepared in house daily. Crunchy, with deli-perfect thick crusts, the bread was an asset to every sandwich we ordered. All of the ones we tried — sourdough, rye and ciabatta — were amazing.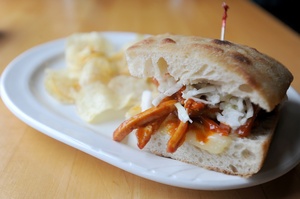 Angela J. Cesere | AnnArbor.com
Cafe Ollie is particularly effective in providing substance to what can often be bland tasting tofu, which can lack substance as a main course. The Hi How Are You? sandwich pulled this off, with pulled barbeque tofu with slaw and Swiss. With the help of seasonings, you could almost mistake this for (gasp!) meat.
The same can be said for the Red Dawn II, where vegan "meatballs" were as hearty and flavorful as any meat version, topped with a perfectly seasoned marinara sauce.
Seasoning was lacking on the rather bland The Paul Reubens veggie burger. The only carnivore sampling we tried, the "Reubenesque," nicely melded thin slices of tasty corned beef, Thousand Island dressing and Swiss cheese. But I thought the sauerkraut made the sandwich taste too bitter overall. Omitting it would have made this sandwich a winner. In The Bronson, an onslaught of onions overpowered the tuna.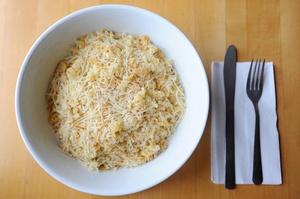 Angela J. Cesere | AnnArbor.com
Mac and cheese was solid, and benefited from the five different cheeses, though it could have used a bit more sauce. The consistency was dry, exacerbated by the bread-crumb topping.
Potato salad was thick and flavorful, one of the best items on the menu. There are a limited number of sides, though the sandwiches are served with potato chips and a pickle.
Service was reasonable but not super speedy, which was surprising, since we were one of only a few dining parties on both our visits. The owner was very attentive and responsive to requests.
I found Cafe Ollie to be a delightful neighborhood spot and a great place to stop by, especially if you find yourself craving a substantial vegetarian offering.
Julie Halpert reviews restaurants for AnnArbor.com.