Posted on
Fri, Sep 16, 2011 : 5:13 a.m.
Canadian troubadour Gordon Lightfoot sails revised 'Edmund Fitzgerald' and more back to Michigan Theater
By Roger LeLievre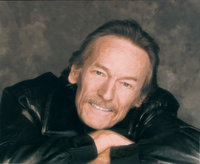 When
Gordon Lightfoot
, elder statesman of Canadian singer-songwriters, performs his signature "Wreck of the Edmund Fitzgerald" Wednesday night at the Michigan Theater, he'll be offering a slightly different version of the song that landed in the Top 10 in 1976.
As new information has come to light about the 1975 Lake Superior disaster, Lightfoot said he changed some words—lyrics that could have been misunderstood as blaming the crew for the shipwreck—out of respect for the families of the 29 men who went down with their ship.
The lyric "At 7 p.m. a main hatchway caved in, he said, 'Fellas, it's been good to know ya' has been changed when performed live to "At 7 p.m., it grew dark, it was then he said, 'Fellas it's been good to know ya."
"It absolves some of the deckhands who were in charge of those hatch covers because I've been in touch with these people for years," Lightfoot, now 72, told the Toronto Sun. "The mother and the daughter of two of the deck guys who would have been in charge of that have always cringed every time they've heard the line. And they will be very pleased. And they know about it and they're very happy about it."
"The whole verse was really conjecture right from start to finish anyway. It's the only verse in the whole song where I give myself complete poetic license," he added.
Lightfoot, who last appeared at the Michigan Theater in 2002, told The Ann Arbor News at the time that the Fitzgerald song is "my greatest achievement.
PREVIEW
Gordon Lightfoot
Who: Iconic Canadian folk balladeer.
What: Lightfoot and his band offer songs from his long career. Among his hits are "The Wreck of the Edmund Fitzgerald," "Sundown" and "If You Could Read My Mind."
Where: Michigan Theater, 603 E. Liberty St.
When: 8 p.m. Wednesday, Sept. 21.
How much: $67.50-$25. Tickets available at Ticketmaster.com and all Ticketmaster outlets including the Michigan Union Ticket Office. Charge by phone at 800-745-3000.
"It's a song you can't turn your back on," he said. "You can't walk away from the people either. The song has a sound and total feel all its own. We've sung it every show since the day we wrote it. It's a true song and a great song. It's stood the test of time."
Although Lightfoot tends to be known best for the Fitzgerald song, he also hit the Top 10 in 1976 with "Sundown." A club-ified version of the ballad "If You Could Read My Mind" has been an unlikely dance chart hit not once but twice, and his early works, among them "Early Mornin' Rain," "Ribbon of Darkness" and "For Lovin' Me," have been covered by many artists, including Ian and Sylvia, Bob Dylan, Marty Robbins and Johnny Cash.
Recent years have not been kind to Lightfoot. Musical styles have changed, leaving Lightfoot's folksy style behind.
In 2002, he was in a coma for six weeks after suffering a ruptured aortic aneurysm, and in 2006 he suffered a minor stroke while performing. There were untimely rumors of his death in 2010. More recently, longtime guitarist Terry Clements passed away (he's been replaced by another Canadian, Carter Lancaster).
Still, Lightfoot, with 21 albums, five Grammys and multiple Juno Awards (the Canadian equivalent) to his credit, remains a road warrior.
"If we can go another four or five years, that'll be great," he said in a recent interview with the Halifax Chronicle-Herald. "I don't mind doing the work, I can tell you that. I enjoy performing, I love the communication. I've always been a live performer; I always was, years before I ever saw a recording contract of any worth."