concert preview
Again fighting cancer, blues singer Candye Kane returning to The Ark
Posted on Tue, Aug 7, 2012 : 5:11 a.m.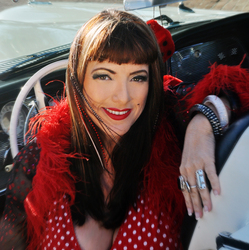 photo by Alan Mercer

In 2008, when rocking-blues singer Candye Kane was diagnosed with neuroendocrine cancer, and was successfully treated, she felt blessed, but knew she wasn't completely out of the woods—that she wasn't going to be "clear" until she went five years without a recurrence.

But she threw herself into her music, and her life, with her usual gusto, and her first album after that bout with cancer, "Superhero," was a celebration of survival and an embrace of new opportunities.

She's always been a trouper, though, having already survived a dysfunctional childhood—her father went to prison, her mother suffered from mental illness, and Candye was an unwed mother by age 17.

So, this past April, when her doctor told her the cancer had returned, and that she needed to undergo surgery again, she was initially, understandably, frightened and distressed—but, after digesting the reality of it, she demonstrated the resilience she has always shown. She had surgery on May 2, took two months off to recuperate, and then was back on the road on July 4 for a three week tour.

"It probably was too soon, even though no doctor told me not to start touring again when I did," says Kane. After that three-week July tour, she got to go home and rest for two weeks before embarking on another string of shows that brings her and her four-piece blues/rock/swing band to The Ark on Saturday.

"I'm mostly feeling OK, but I still get tired sometimes. I guess if I had a 9-to-5 job, with a salary and paid medical leave, I would have taken more time off, but this is my livelihood. I needed to get back out there and work."
PREVIEW
Candye Kane
Who: Talented, big-voiced blues singer and songwriter who was recently diagnosed with neuroendocrine cancer for the second time in four years, but finds that doing live shows strengthens and empowers her.
What: Tough, lively, sassy blues of various stripes—rocking, swinging, shuffling, jumping—from a smart songwriter and soulful singer who has toned down some of the more risque elements of her once-bawdy live shows.
Where: The Ark, 316 S. Main St.
When: Saturday, 8 p.m.
How much: $15. Tickets available from The Ark box office (with no service charge); Michigan Union Ticket Office, 530 S. State St; Herb David Guitar Studio, 302 E. Liberty St. or online via MUTO.
Plus, playing for her fans, who know she's now undergoing another bout with cancer, has been a rewarding experience that Kane says is actually empowering—and, in a way, contributing to her healing.
"I think it's inspiring for people to see me working, after cancer surgery. After the shows, many of them have shared their own personal experiences with me, about their own cancer, or other trials and tribulations," says Kane by phone from her home in Oceanside, CA, near San Diego. "So, it becomes a much more personal experience, and I'm glad I can be a role model to some people, by doing what I love, even though I'm still fighting this disease.
"Plus, I feel very lucky to be up on stage, in front of a few hundred people, getting positive energy from them, and knowing that they are sending me their prayers and healing vibes. That part of it is a pretty awesome experience. And being in front of audience, and playing and singing music that I love, helps me stay stronger." Kane has already undergone some radiation treatments, and still has more treatments ahead of her.
Kane's latest studio album, "Sister Vagabond," from 2011, was, for the most part, another lively, sassy, soulful, deep-roots affair that again displayed Kane's fondness for vintage styles.
"Yeah, I'm a big fan of the old-style chanteuses, like Big Maybelle, and Big Mama Thornton, and I wanted to make a record that sounded authentic, the way their records did," she says. "And I think we succeeded. We recorded it all on analog, and then transferred the tapes to digital, so it still has that warm sound that I like."
The disc is a good representation of what Kane has been doing for many years—a robust brew of straight blues, rocking blues, swing, rockabilly and a bit of vintage jazz, and it's definitely informed by an old-soul sensibility. "Yeah, the music I love the most was recorded between 1940 and 1965, so I wanted it to have that feel, but I also wanted to bring a modern guitar sound to it, which is where Laura comes in."
That would be Laura Chavez, who joined Kane's band in 2007, and lays down some alternately scorching, twangy and seductive riffs, fills and solos. Chavez also co-wrote a few tunes with Kane on "Vagabond."
Over the years, Kane earned a rep for her risque shows and her irreverent and bawdy sense of humor, which she also showcased on a few songs with vividly sexual titles, like "Masturbation Blues." In recent years, though, she's chosen to tone that down and show her more thoughtful and intellectual side. So, one song on "Vagabond" that stands out is the emotionally charged "Walkin', Talkin' Haunted House," a song about "the hearbreaks I've had in my life, and the road behind me, littered with broken hearts and the ghosts of my former lovers."
"That's a pretty dark and serious song for me," says Kane. "I think most of my fans want to hear me sing more upbeat stuff. But, if you've ever had a broken heart, that's proof that you're capable of deep love, and if you have that capacity, you're lucky to have loved, even if you loved and lost."
Another striking track is "You Can't Take It Back From Here," which started out as a song about her biological father wanting to be part of her life again, "after 50 years of not being in my life, so I wrote it as an angry song, like I was telling him, 'No, you can't take that back, ignoring me for 50 years.'"
But then, in 2010, the enormous oil spill in the Gulf of Mexico occurred, causing terrible environmental damage to the Gulf and the surrounding coastlines, and wreaking considerable havoc on the entire region. So, the song took on a different meaning, and she donated it to the "Blues for the Gulf" blues-anthology album, the proceeds of which have gone to aid the region's environmental and economic recovery.
"So, the song ended up going in a slightly different direction, exploring the darker side of humanity," says Kane—"you know, this huge corporation, allowing that to happen, then watching dolphins dying on the beaches and not caring."
Although Kane pays for a special health insurance policy for those with pre-existing conditions - one that was created as part of the Affordable Care Act, AKA "Obamacare"—her own out-of pocket expenses are as huge as you might imagine them to be. So those who would like to help Kane with her medical bills can do so by going to paypal.com and sending the donation to candyekanetour@aol.com, or by sending a check, made out to Candye Kane, to 315 S.HWY 101 #47, Encinitas, CA, 92024.