Posted on
Fri, Jul 2, 2010 : 5:32 a.m.
Caravan Palace mixes old, new sounds with an ear toward the dance floor
By Roger LeLievre
If Caravan Palace doesn't make you want to dance, you'd better check your vital signs.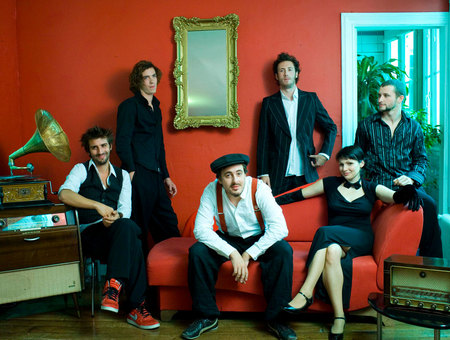 The electro-swing sextet from Paris — with violin, double bass, guitar, clarinet and trombone, driven by dance-club beats and electro-scat vocals — plays Saturday night, July 3 at Lydia Mendelssohn Theatre as part of the Ann Arbor Summer Festival. Caravan Palace's most obvious influence is Django Reinhardt; however, its members are also inspired by French electronic music artist Vitalic, American jazz icon Cab Calloway, French electronic music duo Justice, jazzman Lionel Hampton and the modern electro-pop duo Daft Punk.
With such disparate influences, it's not surprising Caravan Palace's live shows attract club kids and swing-jazz fans alike. Aficionados of the movie "The Triplets of Belleville" will instantly recognize this style of music, which has been taken to a new level with the addition of hot electronic beats.
Caravan Palace consists of Charles Delaporte (bass, programming), Arnaud Vial (guitar, programming), Hugues Payen (violin, programming), Colotis Zoé (vocals), Antoine Toustou (electronics, trombone) and Chapi (clarinet).
AnnArbor.com caught up with Zoé by phone one afternoon recently, while she was shopping in Paris.
"If I had to explain the sound of our music, I would say a mix between old, like swing and jazz, and also Gypsy jazz, mixed with new sounds or house music or electronic," she said. "It's quite experimental. … We mix electronic performance with machine and computers and real instruments."
Caravan Palace performing "Ended with the Night" live:
Caravan Palace's self-titled CD was released in France in 2008, preceded by the single "Jolie Coquine" and followed by the equally infectious "Suzy." Video clips for both these tunes, available on YouTube, show the band sporting a 1940s fashion sense (Parisian proto-punk?), an eye for the visual, and a compelling beat that dares listeners not to dance. The album is set for U.S. release shortly after the Ann Arbor show.
Although the band seems to have caught on in Europe rather quickly, Zoé said that's not really the case.
"Like a submarine, it was a long time behind the scenes," she observed. "Before people could buy the album it was done for maybe three years. And it was difficult to find anyone to invest money in the album. … It was quite a bit of work."
Group members, said Zoé, share a passion for manouche (Gypsy-style) jazz and the more contemporary styles of electro, house, dub and hip-hop.
"It was like a heart attack," she said, after searching for the right English words to describe how it felt when the band's sound came together. "It was really natural for us to work together, and so cool. … Everybody can have a lot of fun, musicians on stage and the audience."
Caravan Palace's origins are a bit unusual. The band got its start in 2005 when Delaporte, Vial and Payen were hired to score music for some rediscovered silent adult films from the early 20th century. After hearing the end result, the feedback they got persuaded them to come up with a repertory of their own.
PREVIEW
Who: Electro-swing group from Paris, presented by the Ann Arbor Summer Festival.
What: Everything from gypsy jazz to electronic beat music.
Where: Lydia Mendelssohn Theatre, 911 North University Avenue.
When: 8 p.m. Saturday.
How much: $20-$25. Tickets available online at Tickets.com; by phone at 734-764-2538; or in person at the Michigan League ticket office, 911 North University Avenue.
The group's first stop on its first North American tour is Montreal. Ann Arbor is second. Zoé said she and the band members are looking forward to seeing how their music plays outside of New York, where they played at a music industry showcase in January.
"When we went to New York it was a one-shot, and it was not just for us, but for all the bands. We want to see how the public is really going to respond to our music, see if there is any enthusiasm. Also we want to meet some of the American musicians, to (see if we) have the chance to (work together) in the future," she explained.
Ann Arbor Summer Festival Director Robb Woulfe said he thought the band would be a perfect fit for the Summer Festival.
"This group has reinvigorated and remixed swing into something very contemporary for audiences of all ages. It's so, so cool," he said.

Roger LeLievre is a freelance writer who covers music for AnnArbor.com.