Posted on
Mon, Oct 15, 2012 : 5:20 a.m.
Carbon Leaf, headed to town for 2 nights at The Ark, still branching out after cutting ties with label
By Roger LeLievre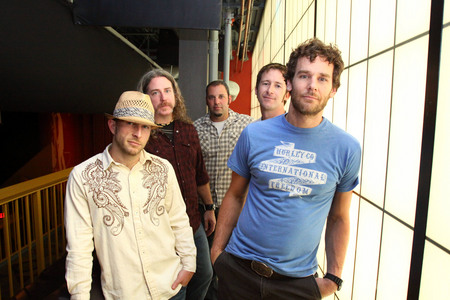 The last time Richmond, Virginia-based band
Carbon Leaf
played in Ann Arbor, they had just jettisoned their major label in favor of regaining independent status and the freedom that comes along with it.
That was in 2010. In a recent phone interview, Carbon Leaf lead vocalist/songwriter Barry Privett said band members have no regrets about the move.
"It's the way it used to be, where you're not beholden to someone else's schedule," he said. "There's certainly a whole lot more responsibility on your end, but we're very adept at recording and producing our own stuff. … The more you expand your team at a label it's easy to lose focus. It becomes top-heavy with promotion and before you know it you're more focused on promoting than making music. We're really focused on the fans, and getting the music out there."
Known for the radio hits "Life Less Ordinary" and "The Boxer," Carbon Leaf will settile in for shows Thursday and Friday nights at The Ark (folk-rocker Michael McDermott will join them on Friday's bill). The group's last CD, the three-disc "Live, Acoustic ... And In Cinemascope!" was released two years ago.
Getting its start as an independent band in 1992, Carbon Leaf signed with Vanguard Records for a three-album stint in 2004. In addition to enjoying the aforementioned hits, the band placed first in the International Songwriting Competition, won an American Music Award and recorded the music for the "Curious George II" soundtrack. More recently, Privett said, the group has been busy in the studio; however, a new full-length album is not high on the priority list.
PREVIEW
Carbon Leaf
Who: Lead vocalist/songwriter Barry Privett, guitarist/multi-instrumentalist Carter Gravatt, drummer Jason Neal, bass player Jon Markel and guitarist Terry Clark.
What: Down-home, eclectic mix of folk-rock, Americana, bluegrass and pop.
Where: The Ark, 316 S. Main St.
When: 8 p.m. Thursday, Oct. 18 and 8 p.m. Friday, Oct. 19 (with Michael McDermott).
How much: $17.50. Tickets available from The Ark box office (with no service charge); Michigan Union Ticket Office, 530 S. State St.; Herb David Guitar Studio, 302 E. Liberty St.; or online from the Michigan Union Ticket Office.
"We are working on a bunch of new songs—we're not sure exactly how we are going to release them yet," he said. "We've written about 27 songs or so and we're just getting them down now. We're going to record all of them over the next couple of months and see where they are, and they will be released in some form.
"It's a new frontier really and we're trying to figure it out," he added. "I think we're looking at just doing single releases, getting stuff directly to fans and let them share it for a while. We're coming up on our 20th anniversary, and we were thinking of maybe doing something different like that as opposed to just pressing another CD."
While it is nice to have a hit song, Privett said it doesn't bother him that the band hasn't had one recently. Nor is the band interested in trying to produce one.
"I'm not going to say isn't nice to have a song on radio," he observed. "(But) I think the music is just going to dictate whether that is something we would want to invest in and pursue. It is an investment. When you have a song you feel like you want to take to radio, there's money involved in doing that."
Privett said the band is especially happy about returning to Ann Arbor, and plans to bust out some of the new tunes at the two-night gig.
"There are different areas of the country that appreciate hearing something different and new, not just stuff they already know," he said, clearly including in Ann Arbor in that category. "It helps us in the process more if we know people are interested in hearing something that's hot off the press," he said.