Posted on
Sun, Jan 8, 2012 : 5:24 a.m.
'Bernhardt on Broadway' coming to WCC
By Jenn McKee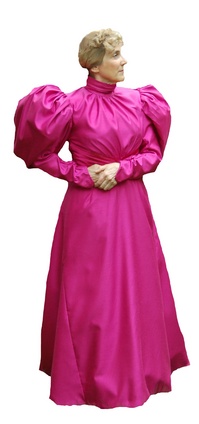 Carol Dunitz as Sarah Bernhardt
While growing up in a Detroit suburb, Ann Arbor's
Carol Dunitz
—the creator and performer of the original, one-woman musical "Bernhardt on Broadway," which will play for 2 performances at Washtenaw Community College—heard about legendary actress
Sarah Bernhardt
by way of comparison.
"When I was little, my mother always used to tell me I was a little Sarah Bernhardt," said Dunitz. "Many mothers told their daughters that when they were being histrionic."
Dunitz's mother also once took Dunitz to a matinee performance of "Gypsy," starring Ethel Merman, and this inspired Dunitz's lifelong passion for musicals.
"My dream has always been to write and produce musicals," said Dunitz. "I've been writing music since I was a child. … Some people think in words, and some people think in pictures. I think in music."
Originally, Dunitz had thought about writing a show (called "Leading Lady") focused on a fictional character like Merman. But once Dunitz decided to focus on Bernhardt, she put her research skills to work (Dunitz holds a PhD in speech communication and theater) and read more than 100 books about Bernhardt in a little over six months' time.
"Frankly, I didn't know anything about (Bernhardt) except that she was a great actress, or a great tragedian, before I started doing the research," said Dunitz. "And then … I was amazed about what an extraordinarily colorful person she was. … This woman—she was the world's first superstar. She was the first celebrity to endorse products. It doesn't matter what celebrity you pick from the 20th or 21st century, whether it's Madonna or Lady Gaga or Cher or Meryl Streep—you name it, they all stand on (Bernhardt's) shoulders. She was a tremendous self-promoter. … Even before mass media, she had the whole world talking about her."
PREVIEW
"Bernhardt on Broadway"
What: Carol Dunitz wrote and stars in this one-person musical about the Sarah Bernhardt, the legendary actress who was once the most famous woman in the world.
Where: Towsley Auditorium, in the Morris Lawrence Building at Washtenaw Community College, 4800 E. Huron River Dr.
When: Saturday, Jan. 14 at 2 p.m. and 7:30 p.m.
How much: $25 at Mast Shoes in Westgate Shopping Center or at the door. Participating nonprofits that are also selling tickets include Omni Solutions (734-323-3822), Girls Group (734-994-6627), Growing Hope (734-786-8401), Neutral Zone (734-214-9995 ext.223), Steps for Kids (734-663-6835), Ypsilanti Area Dancers (734-477-9350), and Ypsilanti Community Choir (at Haab's Restaurant 734-483-8200). For advance tickets and group sales, call 734-864-3244.
Born in France to a courtesan, Bernhardt's life spanned 1844-1923, and during that time, she posed nude (while a teenager) for a photographer; she claimed to study roles while in a coffin and to play croquet with human skulls; she was paid to endorse cigarettes, soap, and perfume, among other products; and
Oscar Wilde
dubbed her "The Divine Sarah."
But what moves people in one era does not always translate to another. Does Dunitz believe Bernhardt would still be a worldwide star if she was performing today?
"I do," said Dunitz. " … She changed a lot of things. One of the things I address in the play is how she took the stylization, and the way performances were typically done, and turned her back on the grand style of acting in French theater in favor of more realistic performance. So she actually was one of the ones to usher this in."
Set in the 1890s, "Bernhardt on Broadway" invites audiences to experience what it's like to visit Bernhardt's drawing room for a couple of hours.
"Essentially, the audience is seeing the Belle Epoque through the eyes of the most famous woman in the world," said Dunitz.
Dunitz first performed the show in October 2010, when she was invited to mount it at Maxim's in Chicago. She will soon take the show to Iowa, and then Detroit; but the Ann Arbor shows have the added benefit of potentially raising money for 7 area nonprofits who are selling tickets to the event.
"About 7 years ago, I wrote a book called 'Louder than Thunder,'" said Dunitz. " … I did a lot of book signings. At the time, I made the decision … that I would donate 25 percent of the proceeds to charity, and in the process, I raised $15,000 for good causes, which was very gratifying. So I decided recently that I would try something similar with the play. … I contacted a number of nonprofits and I said, 'If you would like to sell tickets, in addition to me selling them on a commercial basis, you may keep a certain percentage of the proceeds.' They're very enthusiastic and excited, and I'm hopeful that they'll be able to raise a lot of money by doing this."
Jenn McKee is the entertainment digital journalist for AnnArbor.com. Reach her at jennmckee@annarbor.com or 734-623-2546, and follow her on Twitter @jennmckee.