Posted on
Sat, May 18, 2013 : 5:14 a.m.
Beloved singer-songwriters Mary Chapin Carpenter, Shawn Colvin teaming up for Power Center concert
By Kevin Ransom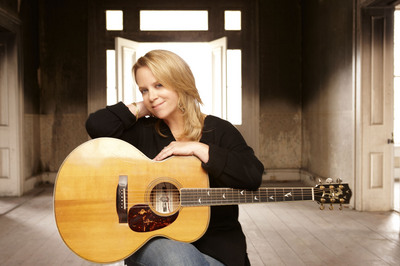 In the few years leading up to
Mary Chapin Carpenter
's latest album, "Ashes and Roses," she went through several difficult and painful life experiences. She got divorced, she was stricken with a serious illness, and she lost her father.
So, she did what most songwriters do—she processed the pain of those experiences by writing about them—or, in some cases, writing about the emotions conjured by those travails. The result, "Ashes and Roses," released last fall, is an album about grief and loss, but it also has an arc, and chronicles the journey we go through in order to come out whole on the other side—hopefully in a more positive state, or further along on the road to healing.
Given all of those real-life traumas that inspired the songs, "Ashes and Roses" is the most emotionally intense, and most personal, album of Carpenter's career.
She will be singing many of those songs when she comes to the Power Center on Tuesday for a duo performance with her old friend and musical cohort Shawn Colvin.
PREVIEW
Mary Chapin Carpenter and Shawn Colvin
Who: Acclaimed, beloved folk-pop singer-songwriters and old pals.
What: Carpenter and Colvin will performing together, as a duo, mixing their winsome voices on songs from each of their deep catalogues, as well as covers of some of their favorites.
Where: Power Center, 121 Fletcher St.
When: Tuesday, May 21, 7:30 p.m.
How much: $30, $45, $60. Tickets available from The Ark box office (with no service charge); Michigan Union Ticket Office, 530 S. State St. or online from MUTO.
The experiences that Carpenter grappled with began in 2007, when she was diagnosed with a life-threatening pulmonary embolism. She was treated and recovered, but later, her marriage ended. Then in late 2011, after a long illness of his own, her father died.
Her father, Chapin Carpenter Jr., worked as an executive for Life magazine. Carpenter was born in Princeton, New Jersey, but spent some time growing up in Japan, where her father was as part of his job. Eventually, the family settled in Washington, D.C.
Carpenter began as a folk-music artist in the 1980s, but eventually began adding country and pop elements in a way that that made inroads with the country audience, and she became a country-radio star in the early '90s.
She won five Grammy Awards and was named the Country Music Association's Female Vocalist of the Year in 1992 and 1993. In the '90s, she also notched a handful of gold, platinum and muti-platinum albums, on the strength of hits like "Never Had it So Good," "He Thinks He'll Keep Her," "Down at the Twist and Shout" and "I Feel Lucky."
Her songs have also been recorded by many other singers, in various genres, including Joan Baez, Wynonna, Maura O'Connell, Mary Black, Dianne Reeves. And one of her biggest hits was her cover of Lucinda Williams' "Passionate Kisses."
But as we know, country radio—and the Nashville country-music biz—are fickle, youth-obsessed, and fixated on the flavor-of-the-moment. So, Carpenter's music fell out of favor on country radio and with the Nashville major-label machine. Like many maturing artists, she went the indie-label route, and forgot about trying to score country hits. In 2006, she signed with Rounder Records and began releasing albums on its Zoe imprint—the Grammy-nominated "The Calling" (2007), "Come Darkness Come Light: 12 Songs of Christmas" (2008), and her most recent Grammy-nominated album, "The Age of Miracles" (2010).
On "Ashes and Roses," Carpenter navigates the emotional impact of the traumas and losses she went through on songs with titles like "One Who's Not Enough," "What to Keep and What to Throw Away," "Chasing What's Already Gone," "New Year's Day," "I Tried Going West," "Soul Companion, and "Old Love,"
"What to Keep and What to Throw Away" and "One Who's Not Enough" sift through the emtional and psychic rubble left over after going through heartbreaking losses, but also hint at a way forward. The ambient "Chasing What's Already Gone" looks back and tries to learn lessons from those experiences, and also includes a line about dreaming about her father.
On the uptempo, foursquare "I Tried Going West," the singer hopes that a homecoming will provide solace for her broken heart. "Soul Companion," a duet with James Taylor, sketches the singer's efforts to connect with others again after spending time alone to process her feelings. On the subtle "Old Love," she hopes to find lasting love. The elegiac, painterly "New Year's Day" finds her expressing positivity and a sense of rebirth . And the leadoff track, "Transcendental Reunion," on the surface, describes he details of trans-Atlantic air travel—boarding, departure, landing, baggage check, etc. But the song has a spiritual subtext.
"The reason it's the first song on the record is because I feel like it sets up all the other songs that follow it," Carpenter told CMT.com. "I think some people have thought it was just talking about a trip overseas, but there are a few layers to it—the whole idea of being suspended in the air, in life, not sure where you're going to touch down, not sure what's going to be there when you get there."
Carpenter has been struck by how much the album has resonated with listeners who can identify with the individual experiences and the overall theme.
"It's just humbling, the expressions that people, men and women, have said about (how) they relate to this record," Carpenter told the Chicago Tribune. "The issues that I talk about — parents, divorce, illness — are such deep pockets of our lives at a certain age. It's no coincidence that we do feel that these things connect us. There is some comfort and sense of fellowship in enduring hardships."
Kevin Ransom is a freelance writer who covers music for AnnArbor.com. He can be reached at KevinRansom10@aol.com.