Carriage House Theatre wraps up season with 'Mary Rose'
Posted on Wed, Aug 15, 2012 : 5:52 a.m.
The Carriage House Theatre begins its run of its last production of the season, J.M. Barrie's "Mary Rose," on Thursday, with performances on August 16-18 at 8 p.m.; August 19 at 2 p.m.; and August 23-25 at 8 p.m.
In the play, a young girl named Mary Rose, when her parents took her on a vacation to the Scottish isles as a child, inexplicably disappeared on a small island. Given up for dead, she returned a month later with no memory of having been gone or of any time having passed. As she grows up, she maintains an unusual childlike nature. She marries her childhood sweetheart and has a son, both of whom she loves greatly, but perhaps the call of the island is greater still. Barrie (author of "Peter Pan") weaves a touching story of love, humor, innocence, and loss, and the cast features Emily Caffery, John Vesbit, Diana Armistead, Justin Cohen, Robyn Taylor, Nathan Corliss, and Zach Damon.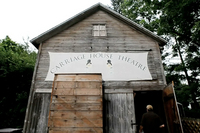 All performances happen at the Carriage House Theatre, at 541 Third Street in Ann Arbor, between Jefferson and Madison streets. Parking is free on all surrounding streets during the evenings and weekends.
$10 is the suggested donation for all regular performances. Since CHT doesn't sell tickets, the company also does not take reservations. The house opens fifteen minutes prior to the beginning of every show, and seats are first come, first served. If you are travelling from a significant distance for one performance, or otherwise need special accommodations to insure that you will be able to see the show, please email the company at CHTheatreA2@gmail.com.