Posted on
Thu, Sep 9, 2010 : 11:52 a.m.
Local composer's 'Old Burying Ground' gets CD release party
By Susan Isaacs Nisbett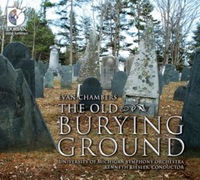 "The Old Burying Ground," U-M composer/singer Evan Chambers' orchestral song cycle, has been a cause for celebration all the way from its early, small-scale Ann Arbor performances to its big Carnegie Hall debut with the University Symphony Orchestra, Kenneth Kiesler conducting, in February 2008.
There's cause again this month to celebrate Chambers' moving, incantatory conjuring of the lives buried beneath the gravestones of an old New England cemetery. On Sunday at 7:30 p.m., Chambers and friends — pianist Midori Koga, poets Thomas Lynch and Keith Taylor (who contributed their poems to the work), and special guest Kiesler appear at Kerrytown Concert House — site of one of those early chamber performances of "Burying Ground" — for a CD release party that includes new music, poetry, and, naturally, excerpts from "The Old Burying Ground." There's family around, too: Chambers' wife, pianist Suzanne Camino, accompanies Chambers in some of his fiddle music.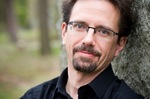 Camino said, in an e-mail describing the rest of the bill of fare, that "Evan will perform four songs of 'OBG' with Midori Koga, the pianist," and he will also offer other short, folk-inspired pieces.
She added, "Keith Taylor, Thomas Lynch and Ken Kiesler will all read poetry from the 'Old Burying Ground,' and Keith and Tom Lynch will both present readings of some of their other work as well."
Naturally, patrons will have a chance to purchase a CD of "Old Burying Ground," which was released on the Dorian/Sono Luminus label at the end of June. Purchase gets you in for free, and if you have a CD already and bring it along, well, admission is free, too. Get 'em signed at the reception that follows. Without a CD, admission is a low $10 general admission, $5 for students. For reservations and information, call KCH at 734-769-2999.
Susan Isaacs Nisbett is a free-lance writer who covers classical music and dance for AnnArbor.com.
Evan Chambers, Tim Eriksen and the University of Michigan Orchestra perform "And Pass From Hence Away":