Posted on
Thu, Mar 3, 2011 : 6 a.m.
'Cedar Rapids' Mega-Guide: Reviews, screen times, tweets, video and more
By Chrysta Cherrie
Fresh off the Sundance Film Festival circuit, the comedy "Cedar Rapids" opens at the Michigan Theater, Quality 16 and Rave Motion Pictures on Friday. Though set in the Iowa city the film is named after, "Cedar Rapids" was widely shot in Ann Arbor (Main Street area, State Street area, Kerrytown) and nearby (Willow Run Airport, Saline) in late 2009.
WHO: Miguel Arteta, director. Cast includes Ed Helms, John C. Reilly, Anne Heche, Isiah Whitlock Jr., Stephen Root, Kurtwood Smith, Alia Shawkat, Rob Corddry, Mike O'Malley, Sigourney Weaver and more. WHAT: Wholesome insurance agent Tim Lippe (Ed Helms) is in for a wild ride when he's sent to Cedar Rapids, Iowa to represent his company at an insurance convention. WHEN AND WHERE: Opening Friday at the Michigan, Quality 16 and Rave. Get complete local screen times. HOW LONG: 87 minutes. RATING: Rated R (Crude and sexual content, language and drug use). ANNARBOR.COM REVIEW: "Cedar Rapids" has some heart and laughs, but could use more by Jenn McKee
REVIEWS AROUND THE WEB: • Jake Coyle, Associated Press • Wesley Morris, Boston Globe • Roger Ebert, Chicago Sun-Times • Michael Phillips, Chicago Tribune • Tom Charity, CNN.com • Tom Long, Detroit News • Lisa Schwarzbaum, Entertainment Weekly • David Rooney, Hollywood Reporter • Betsy Sharkey, Los Angeles Times • Stephen Whitty, Newark Star-Ledger • Elizabeth Weitzman, New York Daily News • David Edelstein, New York Magazine • Kyle Smith, New York Post • Manohla Dargis, New York Times • Anthony Lane, New Yorker • Carrie Rickey, Philadelphia Inquirer • Richard Roeper, RichardRoeper.com • Peter Travers, Rolling Stone • Andrew O'Hehir, Salon.com • Mick LaSalle, San Francisco Chronicle • Claudia Puig, USA Today • Peter Debruge, Variety • J. Hoberman, Village Voice • Joe Morgenstern, Wall Street Journal • Ann Hornaday, Washington Post
YOUR TAKE: Sound off about "Cedar Rapids": Comment on this story, post on Twitter, and vote in our poll.
WATCH THE TRAILER:
"CEDAR RAPIDS" CLIPS: • Check out these digs • Cream sherry • Scavenger hunt • Spider Monkey • We won • Who wants to get wasted? • Ronald vs. Omar from "The Wire" • Ronimal! • Omar
ANNARBOR.COM COVERAGE OF "CEDAR RAPIDS" SUNDANCE PREVIEW AT MICHIGAN THEATER: • Miguel Arteta discussing cast chemistry in "Cedar Rapids" • Miguel Arteta discussing Ed Helms in "Cedar Rapids" • Ann Arbor mayor John Hieftje presents Cedar Rapids mayor Ron Corbett with key to Ann Arbor
MORE VIDEOS: • IMDB interviews: Ed Helms | John C. Reilly | Anne Heche • Back Stage at the SAG Foundation "Cedar Rapids" Q&A: Pt. 1 | Pt. 2 • Ensemble interviews: Buzzine Networks • Miguel Arteta on "Cedar Rapids": Filmmaker Magazine | Screencrave • Ed Helms on "Cedar Rapids": Film Fiend | "The Late Show with David Letterman" • Anne Heche on "Cedar Rapids": "Chris and Amy Show" | "The View"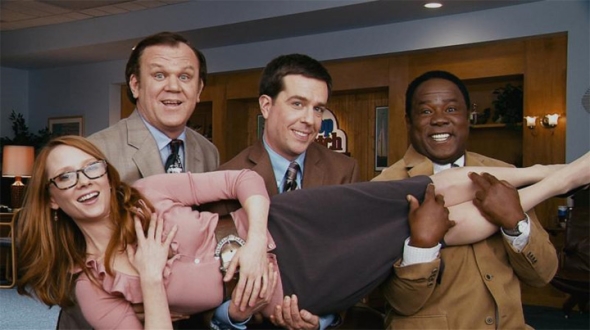 Chrysta Cherrie is the entertainment producer/copy editor for AnnArbor.com. Reach her at chrystacherrie@annarbor.com or 734-623-2526, and follow her on Twitter @chrystacherrie.