Calendar of events
Happening Today:

Celebrate Earth Day; enjoy the annual Orchid Festival at Matthaei

Posted on Sun, Apr 22, 2012 : 5:57 a.m.
GARDENING
The "2012 Ann Arbor Orchid Festival" continues today at U-M's Matthaei Botanical Gardens. Sunday sale area: 10 a.m.-4:30 p.m.; Sunday show hours 10 a.m.-4:30 p.m.; Sunday photographers' hour: 9-10 a.m. Featuring a number of exhibits with orchids in bloom and plants and supplies for sale. There will also be free talks and demonstrations. Free admission. Matthaei is at 1800 N. Dixboro Road, Ann Arbor. 734-647-7600.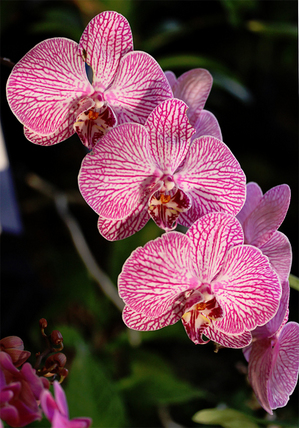 Neal Foster photo
EARTH DAY
The Leslie Science and Nature Center will hold an Earth Day Festival today. Noon to 4 p.m. Explore and participate in the variety of hands-on activities and demonstrations while listening to live earth-friendly music. All are welcomed to come dressed as their favorite plant or animal to join the all-species parade. Free. The LSC is at 1831 Traver Road, Ann Arbor. 734-997-1553.
MUSIC
See the Academy of St. Martin in the Fields with Joshua Bell at Hill Auditorium. 4 p.m. They will play Beethoven's Coriolan Overture, Op. 62, Violin Concerto in D Major, Op. 61 and Symphony No. 7 in A Major, Op. 92. $10-$100. UMS will offer luxury coach transportation from Oakland County to Ann Arbor for this performance. $10 per person, round trip. For tickets and information, call the UMS ticket office at 734-764-2538. Hill is at 825 N. University Ave., Ann Arbor.
EARTH DAY
Enjoy "Earth Day In Action: Artists who Reduce-Reuse-Recycle and Go Local in their Work" at Ann Arbor Artisan's Market. 11 a.m.-4 p.m. Meet Susan Major, an assemblage artist who turns "junk" into art. Bring down a piece of "junk" that you think would look cool in an art piece, and enter a drawing to receive one of Susan's one of a kind pieces. There will children's event from noon-2 p.m. No admission charge. The market is at 315 Detroit St., Ann Arbor. 734-913-9622.