Posted on
Mon, Jul 8, 2013 : 5:15 a.m.
Saline Celtic Festival returning with new attractions, old favorites
By Kevin Ransom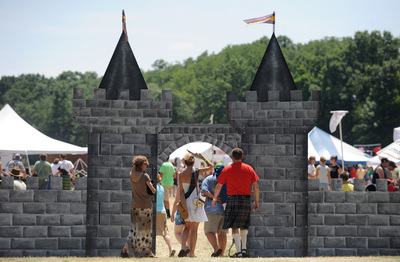 Angela J. Cesere | AnnArbor.com file photo
It's that time of year again—when the
Saline Celtic Festival
turns Mill Pond Park into a celebration of Everything Celtic.
This year's fest—the 18th annual—takes place Friday and Saturday (with a Thursday pre-Fest event), and as usual will feature Celtic music, dance, games, athletic events, jousting knights, sheep-herding demonstrations, music and dance workshops, food, beer and much more.
Every year, the fest likes to add something new. One of this year's additions is the Mastodon Mayhem Challenge, which is a "Warrior Dash" run through the park and will include obstacles, mud, hills, etc. This replaces the previous 5K run, which mostly took place out on the streets, and then ended in the park.
Also new this year is that Michigan craft beers will be served. The fest has invited several Michigan craft breweries—Arbor Brewing Company, Bells, Arcadia Ales, and New Holland Brewery—to set up inside the festival tents and serve their respective grogs. To complement that, the fest has also invited several new food vendors from the Saline Farmers Market. Those vendors, say fest organizers, will include Kaput Red, Janet's LLC, Simple Pleasures, Warm and Fuzzy, Celtic Dairy, Ed's Bread, Iceni Tea and others.
Additionally, the event has expanded its liquor-control area so that festival-goers can sip their cups of beer throughout the park—while watching the various music and dance groups, for example—instead of being limited to sitting in the beer tent.
This year's music lineup includes headliners Solas, The Tartan Terrors, Brother and Blackthorn. Hosting will be the local Celt-music group Finvarra's Wren. For a full list of the musical acts, dance groups, schedules, dance competitions and other events / activities., see the Fest's website: www.salineceltic.org/
PREVIEW
Saline Celtic Festival
Who: This year's music headliners are Solas, The Tartan Terrors, Brother and Blackthorn.
What: Sprawling festival that offers Celtic music, dance, games, athletic events, workshops, food, beer and much more.
Where: Festivities get underway Thursday with the Arcadia Ales Tap Takeover at Dan's Downtown Tavern, 103 E Michigan Ave, downtown Saline, 734-429-3159. Friday and Saturday events take place at Mill Pond Park on West Bennett Street in Saline.
When: Thursday through Saturday. For a full schedule, see the festival website.
How much: Friday Pub in the Park, $5. Saturday: advance tickets, $10 for adults, $5 for teens aged 13 - 17. At the gate, $15 for adults, $10 after 6 pm, $5 for teens 13 - 17. For the Friday and Saturday events, admission is free to children 12 and under and active military personnel. Tickets can be purchased in advance via www.salineceltic.org, or in person at Saline City Hall, 100 N. Harris St, or at the Saline Chamber of Commerce, 141 E. Michigan Ave. For more info, call 734-944-2810.
Festivities actually get under way on Thursday night, with the pre-fest Arcadia Ales Tap Takeover at Dan's Downtown Tavern. That event partners with the Summer Music Series, and will feature the music of Creole Du Nord and the Ancient Athletics Demonstrations in downtown Saline. Then on Friday night is the
Pub in the Park
, at Mill Pond Park, with music provided by Brother and The Tartan Terrors. The vibe at the Pub in the Park is different than the full day of music performances on Saturday in the park—it's a bit more rousing, shall we say.
"Yes, it's very lively," says Pam Kittel, who is now the fest's artistic director, after Sheila Graziano—who'd held that position for 17 years, since the Fest's 1995 maiden voyage—decided to step down last year to pursue other music-and-dance endeavors and spend more time with her new grandbaby.
"The Pub in the Park event is very much like the experience of in an Irish pub, and those two bands are more in the Celtic-rock vein, so it's definitely a high-energy event." In conjunction with Pub in the Park, music and dance workshops will be held Friday evening, as well as two different dances, says Kittel.
Kittel was excited to be able to book Solas to be the main headliner, performing at 4 and 8 p.m. Saturday. They've been one of the most accomplished and acclaimed bands on the Irish-music scene for the last 15 years, led by co-founders Seamus Egan (flute, tenor banjo, mandolin, whistles, guitars, bodhran) and Winifred Horan (violins, vocals). The band members are steeped in traditional-Irish music, but they expand their musical palette by adding other elements, like American folk music, world music, bluegrass, etc.
"They've definitely been one of the top Irish-American bands since they first formed," says Kittel. "They're incredibly talented, creative and influential, and Seamus and Winifred are both All-Ireland champions. I really like their music - they not strictly trad-Irish, but they don't mix it with rock, either. They appeal to a broad audience, and their music is very much a contemporary interpretation of traditional Irish music."
Brother, meanwhile, is a more raucous ensemble. They refer to their music a "Celtic tribal rock," which is a fitting descriptor, given their unusual instrumentation and the nature of the cross-cultural hybrid they've created. They're from Australia, and they use guitar, Australian didgeridoo, bagpipes and "tribal percussion" to create a distinctive, infectious sound.
The Tartan Terrors, another Celt-rocking ensemble, return to the festival with their mix of music, comedy and dance. The group includes a two-time World Champion Bagpiper, world-music grooves and championship-caliber Highland dancers - in addition to amusing songs and sharp comic banter.
And Blackthorn, a longtime local favorite, synergizes trad-Irish music with contemporary folk tunes, and the members demonstrate their facility on multiple instruments, including wooden flute, accordion, tin whistle, banjo, cittern, bones and more.
One always-popular event returning this year is the Highland Athletics, based on ancient games whose origins predate the 11th century, and include events like the Caber Toss, Stone Put, and Sheaf Toss that allow these burly participants to demonstrate their strength and athleticism. The fest is hosting professional as well as amateur tournaments.
Audience participation is always a goal of the event, so, to that end, festival-goers can try their hand at golf chipping and the haggis hurl—which invites participants to see how far they can toss a haggis. Meanwhile, the Wee Folks Island presents crafts and other fun stuff for children, and a rubber ducky race in a stream that flows into Mill Pond—which is where Millie the Mill Pond Monster (an amusing approximation of the fabled Loch Ness Monster) makes an appearance every year, much to the delight of the kiddies.
"I love that this festival is a mix of different things, that it's a Celtic Festival and doesn't focus on just Irish, or just Scottish," says Kittel—"and that is also combines music and culture with the games and athletic events. Here in Michigan, we have a history of immigrants from Ireland, and Scotland, and Wales, and this event is just a great celebration of those various cultures."
Kevin Ransom is a freelance writer who covers music for AnnArbor.com. He can be reached at KevinRansom10@aol.com.