Posted on
Wed, May 22, 2013 : 10:24 a.m.
Central Provisions offering amazing 'pop-up' fare in the Bar at 327 Braun Court
By Kim Bayer
Courtney Sacco | AnnArbor.com
Pretending to know what you're doing some Wednesday night in the near future, enter the unmarked doorway of a nondescript house and hie yourself to the top of some ill-lit stairs. Take a seat in the shadows of a room decorated in David Lynch lumberjack noir. Notice: curved wood paneling resembling the interior of a mid-century Airstream trailer, obscure framed art, antlered things.
Music is playing loud, hugging the line between fun and frustration. Watch the bar man measure, muddle, squeeze, shake and pour your drink.
Then consider food, listed on a brief handwritten menu. It's the Wednesday night pop up dinner from Central Provisions, the newest of several pop-ups hosted at The Bar at 327 Braun Court in Ann Arbor.
The Bar, located in a two-story house across the street from the Ann Arbor Farmers Market, was opened in 2011 by Zingerman's alum Eric Farrell and his film buff partner Ted Kennedy. The semi-secret place is more than just an eclectic stop for excellent cocktails, affordable beers and great snacks. They also have a weekly "punch," along with indie film screenings and the occasional guest DJ. On Mother's Day they started a weekend brunch with what Farrell describes as the world's best Bloody Mary and warm-from-the-fryer raspberry-filled "Braun Court berliners."
In between frying jelly donuts and dreaming up new cocktails (e.g., Half a Yard Sale), Farrell and Kennedy are busy creating what seems like a micro-ZCOB out of The Bar, incubating and hosting other small food businesses that align with their standards for quality and adventure.
RESTAURANT REVIEW
Central Provisions
327 Braun Court, Ann Arbor, MI
734-945-4949
Central Provisions Facebook
Hours: 6 p.m.-midnight Wednesdays
Plastic: Visa, Mastercard
Liquor: Full bar (at The Bar at 327 Braun Ct.)
Prices: Moderate (small plate dishes from $3-$10)
Noise level: Moderate to loud.
Wheelchair access: Not upstairs
Among the new businesses finding their legs in the little two-story fun-house, the
Espresso Bar
takes over the ground floor with a coffee shop during the day. In the evenings,
San Street
(Tuesdays) and Cafe Memmi (Thursdays) have been serving up excellent Asian street food and Tunisian home cooking weekly since last year.
The newest addition to the pop up family is Central Provisions, run by Steve Hall and Abby Olitzky, offering "farmhouse fare" on Wednesdays that is deserving of your prompt and rapt attention.
Hall describes their menu development process, saying, "We start at the Farmers Market and work our way out. We find the ingredients we like, try a few flavor pairings and start to build some ideas—maybe out of the blue, maybe from cookbooks or friends—but really focus on one or two featured ingredients and think about how to capture that essence…The end result we're looking for is basically a menu that feels right—dishes that communicate with each other, flavors that stand uniquely on their own, yet all with a certain balance."
Central Provisions' variable weekly menu is posted in advance via Twitter, Facebook and Tumblr, and includes a half dozen "shareable snacks" structured as a build-it-yourself meal. The style of the food is reminiscent of Chez Panisse, where each dish offers a concentrated experience of fresh seasonal ingredients. The handmade ethos demonstrates a Zen-like simplicity that belies uncompromising attention to detail. Somehow, all the sublime small plate dishes seem to be priced under $10.
Our first Central Provisions experience started on week six of their tenure, with green pea and golden beet crostinis. Toasted oval slices of rustic baguette came layered with a chunky spring-green pate of peas and mint, and also spread with lemony golden beet puree, creamy with yogurt and savory with walnuts.
A salad course offered sweet butter lettuces bathed in a creamy tarragon dressing and hidden bits of mild radish and cucumber, silky salmon belly, and the surprising delicate crunch of fried quinoa. Our table demanded a second round of this.
The farro risotto with market greens was another delicious surprise. Tender nubs of nutty farro grains stand in for rice in this creamy dish with pureed greens. On the side, a choice of either bacon wrapped pork loin or seared shiitake mushrooms. The pork loin was juicy and pork-ily flavorful, but the mushrooms were incredible — seared and caramelized with dark, earthy concentrated umami shiitake flavor.
In a tiny Mason jar, a silky chocolate pot de creme with a narrow layer of sweet milk jam on top was a decadent end to a delightful meal.
The only dish that didn't work for me that evening was the charred scallions with romesco and foccaccia. I found the green onions too stringy, but the spicy slick of romesco was divine.
A second evening at Central Provisions was just as gratifying as the first. If there was a clinker it was only the initial ho-hum dish of house-marinated olives, but the rest of the menu was absolutely wonderful.
Fat and immaculate pickled shrimp came in a wide-mouth Mason jar together with strips of tart lemon, crisp fennel, sweet onion and tiny rounds of sweet-hot red pepper. Although the side of garlicky aioli was delicious, this dish could have been even better served with rounds of bread to soak up the delicious juices.
A Caesar salad was perfectly balanced, with generous hunks of crouton meandering among crisp hearts of romaine, all showered with Parmesan.
The fresh handmade nettle papardelle in lemon cream sauce had hidden bits of crisp pancetta and distinctive wisps of nettle woven among the superbly al dente pasta. Shards of crystallized pecorino drifted over the top added a delicious nutty layer.
To finish, a custardy pot de creme flecked with vanilla bean, again perfectly silky, with sweet macerated strawberries on top tasted like summertime. The little buttons of juniper shortbread on the side were crisp and buttery, with just a hint of piney bitterness.
After all this lovely food, there's one dish that keeps returning to my memory. A beautiful plate of sweet, perfectly roasted carrots and buttery pink radishes over a Kelly green pool of salsa verde that came to the table looking like a still life painting. This simple and unforgettable dish epitomized my sense of Central Provisions' aspirations — and the ascetics and aesthetics of distilling pure flavors from beautiful ingredients to create a complete sensory experience. I thought it was perfect.
The experience of a wonderful, inventive meal of small plate dishes replete with distinctive and satisfying flavors reflecting the season is something I'd like to repeat again and again. And their vision is even bigger.
Steve Hall says that while they started with "the concept of a 'working kitchen,' this quickly evolved into a multifaceted business — part grocer, part wine bar, part cheese shop, part restaurant with communal seating. Right now we're working based on values—seasonal, local, traditional—and figuring out the equilibrium between the different business components."
It sounds fantastic, but I'm worried. Somehow, these 20-something entrepreneurs have the notion that Ann Arbor is just a jumping off point. Their website says they intend to open "an eatery and grocer(y) dedicated to seasonal cuisine, sustainable practices, and artisan American products. Coming to Detroit 2013."
Does Detroit offer something (affordable space? collaborative culture? DIY zeitgeist?) that they can't find here? With summer on the way, I have my fingers crossed that they fall in love with Ann Arbor and never leave. Because what they want to create would certainly find a home here.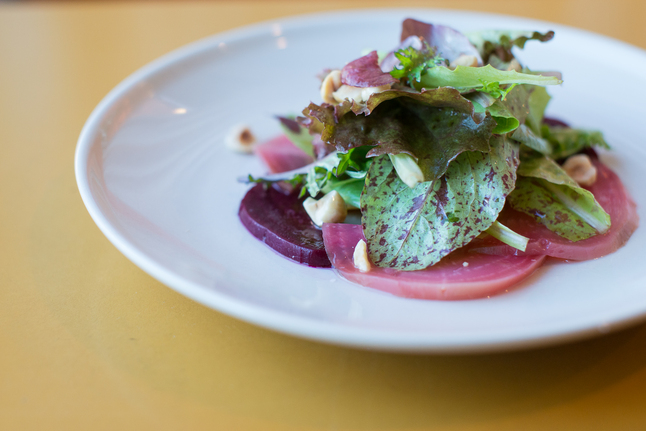 Courtney Sacco | AnnArbor.com
Kim Bayer is a freelance writer and culinary researcher. Email her at kimbayer at gmail dot com.