Posted on
Tue, May 17, 2011 : 7:23 a.m.
Sookie Stackhouse author Charlaine Harris shares with fans at the Michigan Theater
By Jennifer Eberbach
Melanie Maxwell | AnnArbor.com
Bestselling novelist
Charlaine Harris
finished her book tour at the
Michigan Theater
last night.
The 11th installment of her immensely popular "Sookie Stackhouse" novels, "Dead Reckoning", came out this month and soared to the #1 spot on the New York Times "Best Seller" list.
The charming and funny southerner did her best not to give away spoilers Monday. But she did supply plenty of juicy tidbits to gnaw on, which were eaten up by fans of her books and the HBO hit "True Blood" — the popular television sereis based on Harris' epic vampire-romance-horror-drama saga.
After a brief talk, Harris opened things up to the audience for some Q & A. The humble, middle-aged author with one heck of a vivid mature-audiences-only imagination kept the Michigan Theater audience on the edge of their seats, and she threw out a lot of funny zingers. Afterward, hordes of avid fans lined up for a book-signing—packing the large stairs in the theater's lobby. Nicola's Books sponsored the event.
After writing what she called "conventional mysteries" for years, Harris decided to write "something completely different." She thought, why not "throw in vampires to get the science fiction people," some "blood for the horror fans," and "explicit sex scenes for everybody else!" she said as her audience erupted in laughter and applause at her description of the many different genres that her books fit into.
One of her fans asked a question that many would like to know the answer to: Will Sookie end up with a family and husband by the end of Harris's nearly completed 13-novel series, set to end in 2013? Harris says the fate of Sookie's love life is still up in the air. "I don't believe in 100 percent happiness," she answered, "but I want to do right by Sookie"—leading the enamored crowd to erupt in applause.
Many people are interested in her opinion of "True Blood" and the show's take on her novel "Dead Until Dark," the first in the Sookie Stackhouse series. Of the TV show's director, Alan Ball, Harris says: "I always love to see what Alan comes up with next...They are all respectful of the book. They are wonderful writers. And I knew they were going to go off on a tangent, and boy did they!"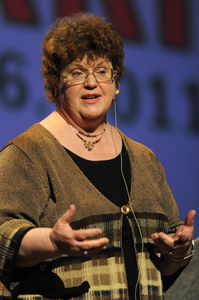 Melanie Maxwell | AnnArbor.com
Some of the characters and plot lines in the TV series depart from her original novels. However, she says she was always expecting that to happen.
Having other writers tackle ideas from her own head has not changed the way she writes her Sookie Stackhouse books. At least, "I hope not!" she says. "I've lived with them long enough that I have them in my head," she told her audience. Her favorite character from the show who does not appear in the books is Jessica, the coming-of-age vampire child and a "foil" for leading male character Bill Compton.
Deciding what happens in the show is not up to Harris, but she shared a couple of ideas for the show. A fan asked her; If the character of Sookie's grandfather is written into "True Blood" at some point, what actor should play him? Harris would love to see iconic glam rocker David Bowie do the role.
After touring so much for her novels, she has heard a lot of repeat questions. And there really is never enough time for a writer to include everything there is to say about a character. "I might have to issue an e-book with all the things people want to know that I couldn't fit in," she said.
She is known for writing strong female characters, and many people complimented Harris on that during the talk and book signing. Of Sookie's ethics, she says: "She knows the right thing to do and does it."
The vibe is that, as writer, she can identify with Sookie while keeping her at a healthy distance. For example, Sookie's love interests are "men who have something in them that appeals to me. I like all of them," however, one must remember that both Bill and Eric are "both dead," and being a vampire is by definition, "being a mass murderer!" she exclaims.
Harris has advice for mature women as they follow their goals, though it really applies to everyone: "Just do your best consistently, and good things will happen," she said. She tried years before cementing her name in the annals of contemporary fiction. It took her a couple of years to sell her Sookie Stackhouse idea. Sometimes things work out, but probably not 100 percent.
For fans wanting more, there is a "Sookie Stackhouse Companion" book. And the other books and series she has written in the past. Her "Harper Connelly" series is quite popular. As with Harper, Harris is going to have to conclude Sookie's story. When asked if she will ever revive Harper, she said, "Probably not." Instead, she believes in "walking away while it's good."
Could that be an omen for Sookie? The final books in the series may be coming too soon for her fans, but the "True Blood" saga will likely continue. The question will soon be, who are Harris' next characters?