Posted on
Fri, Mar 29, 2013 : 10:31 a.m.
Charlene Kaye returning for Blind Pig show to display her music's edgier side
By Roger LeLievre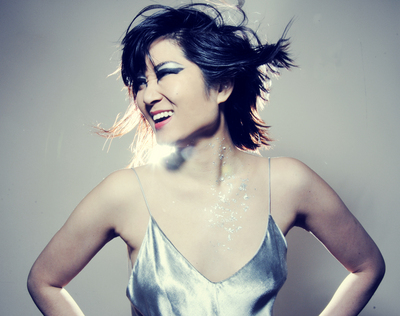 Since graduating from the University of Michigan in 2009,
Charlene Kaye
has been busy making her mark in the Big Apple and beyond with her catchy pop-rock originals. She'll return to town for a show at the
Blind Pig
Tuesday night.
Kaye acknowledged her sound has changed quite a bit since she moved to New York. While her first album, "Things I Will Need in the Past," recorded in 2008 when she was still at U-M, was mostly classical-influenced pop, her latest, "Animal Love," is deliberately edgier.
"The show is pretty rock and roll," she said. "I've always been drawn to that, but I never embraced it 'till I moved to New York. I am approaching it with more fearlessness.
"There was definitely a burgeoning underground and punk scene in Ann Arbor, but New York has so much of every different genre that it became impossible not to try and go to ever single different kind of show that I could," she added. "I came here and I saw everything, from warehouse shows to singer-songwriter shows to hip-hop shows—my appetite was whetted for a bunch of those styles and it made we want to incorporate all lot of those elements into my own music too."
Although she was steadily building a fan base before 2009, Kaye said the single "Dress and Tie," which she recorded with pal / current "Glee" star Darren Criss, another U-M grad, brought her not only wider exposure, it also earned her a measure of legitimacy at home. She also made a splash with her sold-out Team StarKid tours with Criss.
PREVIEW
Charlene Kaye
Who: University of Michigan grad who spent 2005-09 in Ann Arbor, before moving to New York City to pursue a full-time music career. With Alexz Johnson.
What: Kaye's music incorporates various styles, from folk to chamber-pop to modern rock to electronica and R&B.
Where: Blind Pig, 208 S. First St.
When: 9 p.m. (doors) Tuesday, April 2.
How much: $15.
"He's been really generous with letting his fans know about my music, and once the 'Glee' version of 'Teenage Dream' blew up he started getting a lot of attention," she said of Criss. "And that was right when my mom started saying 'Maybe you are doing something worthwhile after all.'
"If it couldn't be measured by anything it was at least measured by my mom giving me some kudos," Kaye laughed.
Kaye was born in Hawaii to parents who are Singapore natives, but she spent her teen years in Arizona. Although she took lessons in clarinet, saxophone, classical piano and violin, she majored in English rather than music at U-M.
"I studied English because I thought I was going to be an English teacher. … I had a really inspiring English teacher in high school. I think I'd still really enjoy doing that," she said.
Delving deeper into the world of electronica, there's also a second disc of club versions of several tunes from "Animal Love," remixed by some of Kaye's New York DJ pals. One of the remixes was done by Ross Federman from the band Tally Hall, who Kaye said is now back in Ann Arbor at the U-M finishing up his education.
Among those tracks is a hip-hop version of "Woman Up" featuring Kalae Nouveau, which has also been made into a video.
"'Animal Love' was a bridge from folk to pop, where the bridge from pop to wherever that goes, we'll see. It was definitely the first flirtation with electronic music with synthesizers with very strange experimental sounds. More, now than ever, I'm inspired by that," Kaye said. "I guess we'll see what the next record holds when I start writing it."
Kaye said her opening act Alexz ("the z is silent") Johnson is "incredibly talented and has a ridiculous voice that I know more and more people are going start talking about soon." Johnson, a Canadian by way of New York who has a new EP out called "Skipping Stone," is supported by Jay Stolar and Misty Boyce.