Charlie King: Following in Pete Seeger's Footsteps
Posted on Thu, Apr 1, 2010 : 4:21 p.m.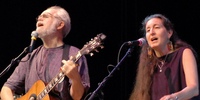 Charlie King and Karen Brandow will perform with Joe Reilly in Ann Arbor on April 11 as a benefit for Interfaith Council for Peace and Justice

One of the biggest thrills of my life was attending the 2009 Ann Arbor Folk Festival and hearing my hero Pete Seeger. Pete had recently performed at the huge Lincoln Memorial concert the weekend before President Obama's inauguration, and was preparing to celebrate his 90th birthday. In a mix of both joy that Pete had been able to see "the arc of history" turn in a more positive direction and sorrow that we might not ever see Pete perform again, thousands of us rose to our feet helping Pete to sing an a capella version of Amazing Grace. How sweet the sound, indeed.

Pete Seeger is a man of many legacies, ranging from teaching multiple generations of kids to sing, to showing the courage to resist intimidation during the McCarthy Era. Another Seeger legacy is inspiring new generations of singer-songwriters to use their music to support and sustain social justice movements.

On April 11, Ann Arbor has a chance to honor that legacy when Charlie King returns to town to perform with Karen Brandow at a benefit concert for the Interfaith Council for Peace and Justice (ICPJ). Now in his 60s, Charlie is a generation younger than Pete, and he learned from Pete that it was possible to make both a living and a difference by using his musical talent. He learned not to chase "the chords of fame," as Phil Ochs once put it, but rather to support progressive causes.

Though he lives on the East Coast, King has performed in Ann Arbor almost every year since his first performance in 1979 at the "old, old" Ark house on Hill Street before 35 people (I know, because I was there!).

Charlie has supported a wide range of local non-profits including the late 1970s/early 1980s anti-nuke group Arbor Alliance, the Central American solidarity group AMISTAD in the late 1980s, the Ecology Center, and, for the last 15 years, the Interfaith Council for Peace and Justice, a natural group for Charlie to support given the wide breadth of issues that it addresses. Charlie and ICPJ members rendezvous each year at the annual protests at the School of the Americas (we prefer to call it the School of the Assassins), which trained some of the leaders of the recent Honduran coup.

King has been at the heart of American folk music for over 40 years. His songs have been recorded and sung by other performers such as Holly Near, Ronnie Gilbert, John McCutcheon, Arlo Guthrie, and, not surprisingly, Pete Seeger himself. Honors include an "Indie" award for one of the top three American folk recordings of 1984. In May of 1998 the War Resisters League gave their Peacemaker Award to Charlie and to Odetta.

But, King's biggest tributes have come from Pete Seeger himself. Pete once called Charlie "one of the finest singers and songwriters of our time." And Seeger personally nominated Charlie for the Sacco-Vanzetti Social Justice Award, which he received in November 1999.

Charlie has been performing with Karen Brandow since 1998. While doing human rights work in Guatemala from 1986-1994, Karen broadened her musical repertoire to include Latin American music of the "Nueva Canción" or New Song Movement. She performs songs in English and Spanish. King and Brandow are musical storytellers and political satirists. They sing and write passionately about the extraordinary lives of ordinary people. Their concerts are a mix of Charlie's classic songs, along with covers from some of the best songwriters around.

Their central vision as entertainers is to leave audiences with a sense of optimism and possibility about the future. "We try to cover a broad emotional landscape in our concerts. The stories we collect and the songs we write take the listener on a journey of humor, heartache and hope," says Brandow. King adds, "What we most value in a song is the way it helps us see an old reality in a totally new light." I think Pete would appreciate that.

The concert is on Sunday, April 11 at 7:00 pm at Temple Beth Emeth/St. Clare of Assisi Episcopal Church at 2309 Packard Street in Ann Arbor. Opening for Charlie and Karen is Joe Reilly, a local singer, songwriter and guitarist, representing a younger generation of talented, local singer-songwriters. Tickets are $15 and $50 for concert benefactors--and if you purchase your ticket in advance you also receive a $5 gift certificate to Ten Thousand Villages of Ann Arbor. Call 734-663-1870 or go to www.icpj.net for advance tickets or more information.
---
By Jeff Alson
Jeff Alson lives in Ann Arbor with his wife and two children. He is an engineer who has worked on auto pollution issues for 30 years, and who co-authored an article on alternative automotive fuels published in Scientific American. He supports many local non-profits, including the
Ecology Center
,
Michigan Peaceworks
, and the
Interfaith Council for Peace and Justice
.