Posted on
Fri, Mar 29, 2013 : 7:24 a.m.
Chelsea Center for the Arts displaying Nancy Flanagan's intriguing landscapes
By John Carlos Cantu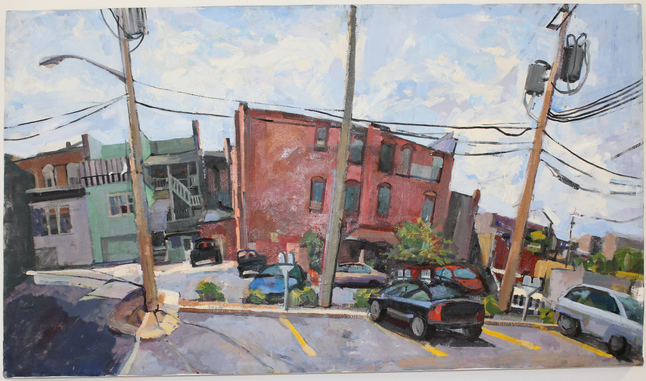 "New Work — Nancy Flanagan — Michigan" at the Chelsea Center for the Arts finds this local visual arts educator focused on the quintessence of our Great Lakes state.
It's admittedly a peculiar perspective because all but one of Flanagan's drawings and paintings in this display are isolated cityscape back alleys devoid of people or nature. It's only when one peers through her insight that her artworks gain their considerable strength.
A native of St. Louis, Flanagan attended The Studio School in New York City. She received her bachelor of fine arts degree from Baltimore's Maryland Institute College of Art and earned an MFA from Yale University's School of Art. Among her numerous awards and grants are a Fulbright Fellowship, a Ford Foundation grant, and a Pollack-Krasner Fellowship.
She's also had a distinguished teaching career at Assumption College (Worcester, Mass.) and Dickinson College (Carlisle, Pa.). She has been a visiting artist at the Rhode Island School of Design (Providence) and the Pratt Institute (Brooklyn, NY). She now teaches at Henry Ford Community College, Washtenaw Community College and the CCA.
What makes this display special is Flanagan's work depicting Washtenaw County parking lots in Chelsea and Ypsilanti. And granted, this might seem like a rather thin subject. But what Flanagan does with her seven pencil drawings and seven oil on canvas paintings in "New Work" is special indeed.
The drawings effectively find her studying the external structure of the world around us. Her pencils have an immediacy, and her attention to detail is akin to seeing the world exposed at its joints.
As one example, 2012's 20-by-40-inch "Through" illustrates Flanagan's view of the lines of demarcation that shape the world around us. There's a complicated interconnected unity to all the elements in this pencil-on-paper parking lot. Every line in "Through" has a specific purpose; just as every object in an urban setting has been crafted by human hands for a specific purpose.
This strategy is also in play in Flanagan's seven oil on canvas paintings at the CCA. But she reverses her field in these artworks, as her palette masks her keenly realized urban observation.
Flanagan's color choices in these paintings are subdued — with a decided touch of coolness that makes the composition seem dispassionate. Yet this deliberate cool isn't an alienation as much as it's a measured observation.

This color schemes in Flanagan's paintings serve the purpose of inviting the viewer to study the composition's interior force-lines, and this strategy differentiates Flanagan's paintings from her sketches. In the paintings, Flanagan allows for a slight geometric distortion of her perspective that's supplemented by her palette. Using solid planes of architectural color built up to complex grids, 2012's "Backyard" features a the mild distortion of perspective seeming natural to the eye.
In this painting, Flanagan uses a palette of contrasting hues to separate the buildings and vehicles depicted. Her choice of color and subtly skewed geometric planes gives the painting a verisimilitude that a more straightforward painting would lack, with its subdued solitary appearance.
It's therefore not accidental that Flanagan largely eschews natural objects in her work. In an interesting way, what would seem the most natural in most contexts would take emphasis away from it is that what she's creating. For Flanagan's not only giving us an immediate report of what she observes: She's allowing us to observe it with her.
"New Work — Nancy Flanagan — Michigan" will continue through April 5 at the Chelsea Center for the Arts, 400 Congdon St., Chelsea. Gallery hours are 9 a.m.-noon Monday-Friday; and 1-3 p.m. Sunday. For information, call 734-433-2787.