Posted on
Tue, May 28, 2013 : 1:07 p.m.
Chelsea Painters Art Fair to bring together award-winning artists
By Ann Dwyer
Check out some great local talent at the 40th Annual Chelsea Painters Art Fair at Silver Maples of Chelsea this weekend. Twenty-five award-winning artists will display and sell original fine art and cards in a variety of media, including watercolor, acrylic, oil, pastel, gouache, encaustic and mixed media.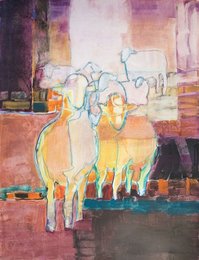 The event is held in a park-like outdoor setting. It will be a great way to take in some quality work while getting some fresh air. An indoor cafe overlooks the art fair. Walk through the building to the courtyard out back.
Additional information, including map, driving directions and a parking map, is available at: www.ChelseaPainters.com.
Saturday and Sunday June 1 & 2, 2013. 10 a.m.-5 p.m. Free and open to the public. Silver Maples of Chelsea is located at 100 Silver Maples Drive, Chelsea. 734-475-4111.