Posted on
Tue, Oct 23, 2012 : 5:19 a.m.
Children's Theatre Network's Saturday Matinee Series lineup announced
By AnnArbor.com Staff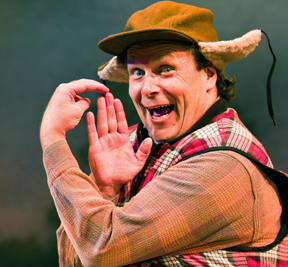 Photo courtesy of Performance Network
Performance Network Theatre
recently announced this year's Saturday Matinee Series for Kids lineup, presented by the Children's Theatre Network, featuring exciting and educational performances at 1 p.m. on the fourth Saturday of every month during the school year, starting in October. (In addition, CTN can be booked to perform shows in local schools and libraries.)
Admission to these monthly presentations is $10 for adults, $7 for children, and $20 for family tickets. Not only does the Children's Theatre Network offer educational plays and musicals for young audiences to enjoy, the company also presents workshops to complement the live performances, and artist residencies to instruct students on how to build a play from script to stage.
This year, the Saturday Matinee Series features four 40-minute plays that cover educational topics, such as science, history, and healthy lifestyles. The plays are sure to be instant hits with parents and children, especially after a juice and cookie reception.
Carla Milarch, PNT's associate artistic director, said in a press release, "There is just so much research that shows that exposing kids to theater at a young age supports academic achievement and confidence later in life. Making theatre a part of your child's routine is just about one of the most fun ways to enrich their educational experience and expose them to a variety of valuable topics. Join Wolverine Will for a whirlwind tour of Michigan history, or Ella Mentry for an overview of the scientific method, or Jamie and Jordan for a refresher on making healthy food and lifestyle choices. Each one is paired with a fun and active theatre workshop before the show that gets kids on their feet and moving. It's a great way to spend a Saturday!"
To book tickets for these Saturday afternoon performances, go to www.performancenetwork.org or call 734-663-0681. The full schedule follows.
"Wolverine Will," by Carla Milarch, with performances October 27 and February 23.
From Lumber Jacks to lug nuts, the bumbling and lovable Wolverine William takes you on a whirlwind tour of Michigan history. From the earliest migrations of the Native Americans, to our unusual journey to statehood, to the innovations of Henry Ford, Michigan's native son uses music and laughter to tell some of the greatest stories of our great state. Developed by a first grade teacher and a theatre educator, the show is specifically geared to augment your curriculum (K-6).
"Ella Mentry and the Case of the Missing Scientist," with a book and lyrics by James Ingagiola, and music by Charles Stout. Performances November 24 and March 23.
Archimedes, the famous Greek scientist, disappears just as he is about to reveal his latest discovery. Luckily, detective Ella Mentry is on hand to crack the case! Featuring a combination of music, comedy, and even a little science, this show is positively entertaining.
"The Fisherman and His Wife," with a book by Paul Vanderoest and music and lyrics by Kerry Graves. Performances December 22 and April 27.
This musical, based on the fairy tale by the Brothers Grimm, incorporates lively songs and likable characters to teach that satisfaction with yourself is the most precious commodity of all. Arthur and Zelda have a simple, happy life. But when Mamie the Mermaid gets tangled in Arthur's fishing line, he must choose his wishes carefully.
"Jamie and Jordan," with book and lyrics by Kim Carney, and music by Gene Gaunt. Performances January 26 and May 25.
Born in the same hospital on the same day, neighbors Jamie and Jordan are lifelong best friends until a twist of fate (and an ankle) separates them. This hilarious musical tale teaches children about the importance of a healthy lifestyle and healthy friendship - both important for long lasting happiness.
Tickets can be ordered by phone at 734-663-0681; online at www.performancenetwork.org or in person at 120 East Huron St.