Posted on
Fri, Mar 8, 2013 : 9:35 a.m.
Chords & Cuisine cabaret show and dinner to benefit Huron Harmonizers
By Ann Dwyer
You won't have to sing for your supper. Let the Huron Valley Harmonizers do it for you at their Chords & Cuisine fundraiser at Stony Creek Methodist Church.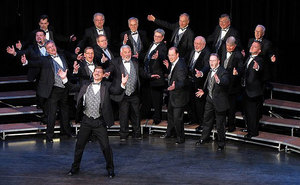 Photo courtesy hvharmonizers.org
Chords & Cuisine is a cabaret-style event that includes a meal and dessert bar.
Joining the Harmonizers are special guests, "Novelty Shop, a comedic Sweet Adelines quartet. Also featured will be the Folk/Christian band Wine Before Breakfast."
The Huron Harmonizers are nonprofit group members who "teach the vocal skills and performance techniques needed to sing four-part a cappella harmony in the barbershop style," according to their website.
Sunday, March 10. 2 p.m. and 6 p.m. $20/ general admission $15/ teens (13-18), seniors (65+), and full-time students. Purchase tickets at http://www.hvharmonizers.org/CCticketOrder.html. Stony Creek Methodist Church is at 8635 Stony Creek Road, Ypsilanti. 734-482-0240.